Catering Management, 4th Edition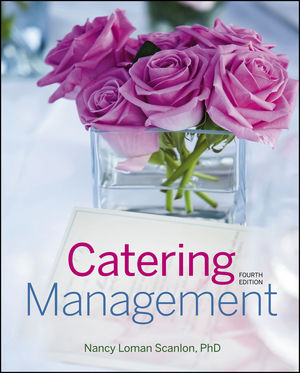 Catering Management, 4th Edition
ISBN: 978-1-118-09149-4
Dec 2012
272 pages
Description
An essential, up-to-date guide for catering students and professionals, Catering Management, Fourth Edition, covers all aspects of the business, (operations, sales and marketing to food and beverage service, menu planning and design, pricing, equipment, staff training, and more). The new edition is completely revised with information on sustainable and green catering practices, digital menu and proposal design, new catering industry software, and the expansion of the event market. State-of-the art marketing strategies, including social networking, web promotion, and on-demand proposal development, are also covered.
Chapter 1: Historical Banqueting
Chapter 2: Styles of Catering Operations
Chapter 3: Catering Food Service Development
Chapter 4: Catering sales and Marketing and Computer Software Support
Chapter 5: Catering Menu Program
Chapter 6: Food and Beverage Operational Controls
Chapter 7: Catering Menu Pricing and Controls
Chapter 8: Catering Menu Design
Chapter 9: Catering Beverage Management
Chapter 10: Quality Service and Standards Training
Chapter 11: Managing Catering Equipment
Up-to-date information on menu design and pricing, new business development, and marketing analysis techniques, and sustainability.
Expanded coverage of small business management, and tips for running a catering operation.
New material on non-hotel catering operations.
New tips for using your computer for menu design, food management, scheduling and invoicing.
Emphasis in this edition is on providing operations guidelines to businesses that offer in-house catering and off-premise catering.
The only book on the market to cover on- and off-premises catering
Covers all the fundamentals, including styles of catering operations, menu design and pricing, food and beverage service, managing staff and equipment, and much more.
This all-purpose guide offers essential management techniques to keep current practitioners on the cutting edge and expert advice to help kick-start aspiring caterers' careers.