Cavalier King Charles Spaniel: Your Happy Healthy PetTM, 2nd Edition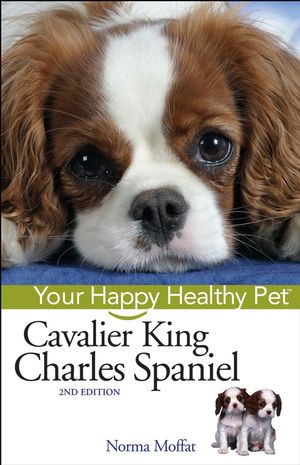 Cavalier King Charles Spaniel: Your Happy Healthy PetTM, 2nd Edition
ISBN: 978-0-471-74823-6
Mar 2006
144 pages
Product not available for purchase
Description
Your Happy Healthy Pet

The authoritative information and advice you need, illustrated throughout with full-color photographs--now revised and redesigned to be even more reader-friendly!

Cavalier King Charles Spaniels are equally at home in a castle or a condo, the city or the country. Elegant in appearance but energetic and affectionate in nature, they're the perfect companions for families with children, empty nesters, or retirees. This guide covers:
* Choosing your Cavalier
* Things you'll need to make your pup feel at home
* Feeding and grooming, including combing and checking the trademark ears
* Healthcare and the importance of regular exercise
* Training and housetraining your Cavalier
* Bonus chapters available on companion Web site


Lively, yet loving, your Cavalier will enjoy keeping you company, whether that entails bustling beside you on a walk or snuggling cozily on your lap!
Part I:
The World of the Cavalier King Charles Spaniel.
Chapter 1: What Is a Cavalier King Charles Spaniel?
The Breed Standard.
Applying the Standard.
Chapter 2: The Cavalier's Ancestry.
The Dog of Royalty.
Signs of Things to Come.
The Better to Smell You With.
The Cavalier Comes to America.
Chapter 3: Why Choose a Cavalier?
Your Dog Needs You.
Gentle Discipline.
Exercise and Your Cavalier.
A Water Dog.
The All-Weather Cavalier.
Some Charming Habits.
Your Bed Is My Bed.
The Cavalier and Children.
Chapter 4: Choosing Your Cavalier.
Reputable Breeders.
Puppy, Adolescent, or Adult?
Adopting from a Rescue Group.
Where Not to Get a Cavalier.
Sex and Color.
Part II: Caring for Your Cavalier King Charles Spaniel.
Chapter 5: Getting Ready for Your Cavalier.
The Crate.
Puppy Essentials.
Confining Your Puppy.
Other Essentials.
Outdoor Puppy-Proofing.
Puppy-Proofing Your Home.
Make Time for Your Puppy.
The Big Day.
Visiting the Veterinarian.
Chapter 6: Feeding Your Cavalier.
Dry Food vs. Natural Food.
Reading Dog Food Labels.
Feeding a Growing Puppy.
Keeping an Adult in Good Weight.
Keep the Oldies Slim.
What About Bones?
Dangerous Treats.
Water Is Essential.
Chapter 7: Grooming Your Cavalier.
The Right Equipment.
Grooming a Puppy.
Grooming an Adult.
Creepy Crawlies.
How to Bathe a Cavalier.
Making Your Environment Flea Free.
Chapter 8: Keeping Your Cavalier Healthy.
Teething.
Hereditary Diseases.
Common Canine Ailments.
When to Call the Veterinarian.
What to Do in an Emergency.
How to Make a Canine First-Aid Kit.
Part III: Enjoying Your Cavalier King Charles Spaniel.
Chapter 9: Training Your Cavalier.
Understanding Builds the Bond.
Practical Commands for Family Pets.
Training for Attention.
Teaching Cooperation.
Chapter 10: Housetraining Your Cavalier.
Your Housetraining Shopping List.
The First Day.
Confine Your Pup.
Watch Your Pup.
Accidents Happen.
Scheduling Basics.
Appendix: Learning More About Your Cavalier King Charles Spaniel.
Some Good Books.
Magazines.
Registries.
Internet Resources.
Index.
Getting Active with Your Cavalier
Download a bonus chapter for this title in PDF format.
Download
Your Cavalier and Your Family
Download a bonus chapter for this title in PDF format.
Download
Additional Housetraining Schedules
Download a bonus chapter for this title in PDF format.
Download
Errata

Download