Celebrity Sells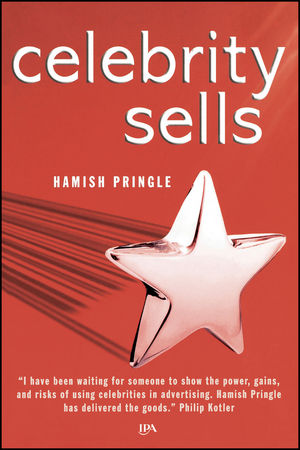 Celebrity Sells
ISBN: 978-0-470-86850-8
May 2004
340 pages
Description
Celebrities have always captured the imagination of the public. In today's age of consumerism, their ability to influence our behaviour can be seen worldwide.

Harnessing this power can reap huge rewards for business — the Jamie Oliver campaign helped turn around Sainsbury?s fortunes, with the return on investment estimated at £27.95 for every advertising pound spent; sales of Walker?s Crisps increased by 105% thanks to Gary Lineker; One to One re-launched its brand with stars including Kate Moss and Elvis Presley.

Celebrity Sells demonstrates the awesome power of famous names, when skilfully used, to sell brands and offers practical advice on how to develop and advertise a brand using celebrities, including:
How to choose the right celebrity for your brand
How to build your brand using a celebrity
How to manage relationships with celebrities
How to protect celebrity and brand reputation
Ethos quotation.
Acknowledgements.
Foreword.
Introduction.
Part I: THE IMPACT OF CELEBRITIES ON EVERYDAY LIFE.
Introduction.
1. Celebrity's impact on the media.
2. Celebrity's impact on hair and makeup.
3. Celebrity's impact on fashion.
4. Celebrity's impact on property.
5. Celebrity's impact on body shape.
Part II: WHY CELEBRITIESWORK FOR BRANDS.
Introduction.
6. Celebrity and interactivity.
7. Celebrity in the era of consent.
8. Fame is the key.
Part III: HOW TO CHOOSE CELEBRITIES FOR BRANDS.
Introduction.
9. Understanding where the brand is now.
10. Seeing how a celebrity could help the brand.
11. Researching the effectiveness of celebrities.
Part IV: HOW TO USE CELEBRITIES FOR BRANDS.
Introduction.
12. Celebrity customers.
13. Celebrity product placement.
14. Celebrity sponsorship.
15. Celebrity testimonial.
16. Celebrity employees.
17. Celebrity brand ownership.
Part V: HOW TO MANAGE THE RELATIONSHIP WITH CELEBRITIES.
Introduction.
18. Negotiating and contracting with celebrities.
19. Pitfalls in using celebrities.
Part VI: TEN SUCCESSFUL WAYS OF USING CELEBRITIES.
Introduction.
20. Celebrity as presenter.
21. Celebrities playing themselves.
22. Celebrity as brand character.
23. Celebrity expertise.
24. Celebrity as role model.
25. Celebrity cast against type.
26. Celebrity acting a part.
27. Celebrity revelation.
28. Celebrities interacting.
29. Celebrity representations.
Part VII: THE FUTURE OF CELEBRITY.
30. Ten predictions on future trends.
Webography.
Appendix: IPA Effectiveness Awards Databank: 'Celebrity' cases.
Index.
About the Author.
""...the phenomenon, ironically Celebrity Sells, will make unpalatable reading for companies that have spent millions re-branding themselves around famous face..."" (
Independent on Sunday
, 26 October 2003)
""...fascinating and witty reading..."" ( Hot Stars, 3 April 2004)
"… Pringle knows his stuff." (Daily Telegraph, 6 April 2004)
"This book is designed as a practical guide for practitioners…" (Sunday Business Post , 9 May 2004)
"This book looks at stars and advertising- and has some fab facts." (New Woman, June 2004)
"… packed to the rafters with facts, ... would recommend this book to anyone, whether they work in media or not."(Media Week, 1 May 2004)
"… an important book…" (Reading Chronicle, 20th May 04)
"…shows just how deeply our lives and lifestyles are influenced…" (City to Cities, Sep/Oct 2004)
 "…sound and detailed advice on how to find the right celebrity..." (Admap, November 2004)
"…This book is practical, relevant and packed with leading edge thinking…" (Mark Ritson, London Business School in IoD, Winter 2004)
"...for anybody fascinated by the public's obsession with the celebrity cult…absorbing enough to appeal to a mainstream audience…" (Campaign, 10th December 2004)