Cell and Molecular Biology: Concepts and Experiments, 8th Edition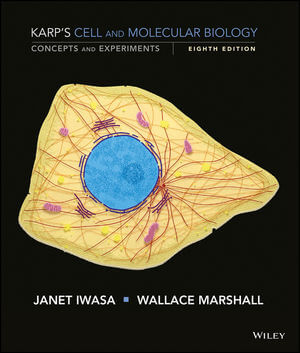 Cell and Molecular Biology: Concepts and Experiments, 8th Edition
ISBN: 978-1-119-62466-0 August 2019
Download Product Flyer
Download Product Flyer
Download Product Flyer is to download PDF in new tab. This is a dummy description. Download Product Flyer is to download PDF in new tab. This is a dummy description. Download Product Flyer is to download PDF in new tab. This is a dummy description. Download Product Flyer is to download PDF in new tab. This is a dummy description.
Description
Designed for courses in Cell Biology offered at the Sophomore/Junior level, Karp's Cell and Molecular Biology continues to be the best book in the market at connecting key concepts to the experiments that reveal how we know what we know in the world of Cell Biology. This classic text explores core concepts in considerable depth, often adding experimental detail. It is written in an inviting style and at mid-length, to assist students in managing the plethora of details encountered in the Cell Biology course. In this edition, two new co-authors take the helm and help to expand upon the hallmark strengths of the book, update and integrate text and media in a useful way, improving the student learning experience.
Table of contents
Introduction to the Study of Cell and Molecular Biology
The Chemical Basis of Life
Bioenergetics, Enzymes and Metabolism
The Structure and Function of the Plasma Membrane
Aerobic Respiration and the Mitochondrion
Photosynthesis and the Chloroplast
Interactions Between Cells and Their Environment
Cytoplasmic Membrane Systems: Structure, Function, and Membrane Trafficking
The Cytoskeleton and Cell Motility
The Nature of the Gene and the Genome
Gene Expression: From Transcription to Translation
Control of Gene Expression
DNA Replication and Repair
Cellular Reproduction
Cell Signaling and Signal Transduction: Communication between Cells
Cancer
The Immune Response
Techniques in Cell and Molecular Biology
New To This Edition
New Co-authors. Janet Iwasa (University of Utah) brings her expertise in illustration and 3D visualization of molecular processes to aid in student understanding of core concepts and to expand upon the experimental focus of the text. Wallace Marshall (UC San Francisco) is a well-published Cell Biology researcher and serves on the President's board of the American Society of Cell Biology. The unique credentials and skill-sets of these new authors help to transform this proven text into a modern, media-rich course solution.
Now Featuring WileyPLUS Learning Space! WileyPLUS Learning Space is an easy way for students to learn, collaborate, and grow. Karp utilizes the WPLS platform to connect the reading of text to a variety of supporting examples such as video clips, animations, and diagrams, while providing a multitude of questions for self-practice and assessment. Learn more at http://www.wileypluslearningspace.com
Integration of experimental approaches throughout the text, Experimental Videos, as well as increased "Experimental Pathways" sections and in the techniques-focused chapter
Increased emphasis on relevance to human health through "The Human Perspective" sections which have been expanded and updated.
Features
Offers an appropriate balance of concepts and experimentation. Experimental detail is offered when it helps to reinforce the concept being explained.
Strong illustration program includes stepped-out art to break down complex processes.
Illustrations are paired with micrographs to help students compare the real (micrograph) with the ideal (illustration).
Human aspects of cell biology are integral to this text, with "Human Perspective" essays throughout.