Cellular Signaling and Innate Immune Responses to RNA Virus Infections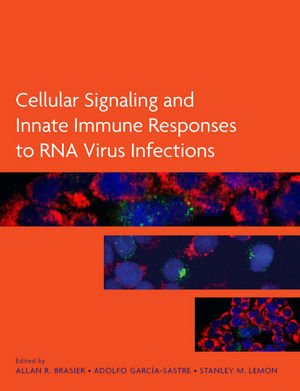 Cellular Signaling and Innate Immune Responses to RNA Virus Infections
ISBN: 978-1-555-81436-6
Jan 2014
400 pages
Product not available for purchase
Description
Infections with RNA viruses represent a significant cause of morbidity and mortality in vertebrates. This volume is written with the belief that a careful examination of the early host responses to these RNA virus infections, as well as of the mechanisms adopted by these viruses to evade early host antiviral responses, will provide a platform of knowledge on which we will be able to develop new and more effective methods for controlling the spread of RNA viruses or modifying their disease course.
• Provides an overview of changes in the field since 2001 of specific pattern recognition receptors (PRRs) as pathogen sensors and mediators of innate signaling
• Summarizes recent discoveries in a timely fashion
• Serves as a yardstick for significant future advances in the field and articulates areas that need further investigation
• Contributions from leading, active investigators, all experts in their individual fields.