Central Issues of Philosophy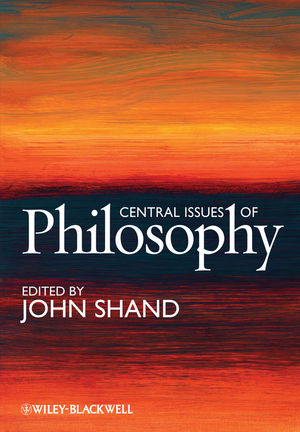 Central Issues of Philosophy
ISBN: 978-1-405-16271-5
May 2009
312 pages
Description
Comprising 20 free-standing chapters written by specialists in their respective fields, Central Issues of Philosophy provides novice readers with the ideal accessible introduction to all of philosophy's core issues.
An accessible introduction to the central issues of philosophy
Organized around key philosophical issues - ranging from truth, knowledge and reality to free will, ethics and the existence of God
Provides beginning students with the information and skills to delve deeper into philosophical fields of study
Each chapter is written by an experienced teacher
Preface.
Notes on Contributors.
Introduction: An Essay on Philosophy and the Four Philosophical Virtues (John Shand, The Open University).
1. Truth (Jeffrey Ketland, University of Edinburgh).
2. Knowledge (Duncan Pritchard, University of Edinburgh).
3. A Priori Truths (Greg Restall, University of Melbourne).
4. Perception (Daniel Stoljar, Australian National University).
5. Reality and Thought (Matti Eklund, Cornell University).
6. Existence (Robin Le Poidevin, University of Leeds).
7. Modality (Daniel Nolan, University of Nottingham).
8. Mind and Consciousness (Keith Frankish and Maria Kasmirli, The Open University and University of Sheffield).
9. The Self and Personal Identity (Paul Snowdon, University College London).
10. Action (Luca Ferrero, UW-Milwaukee).
11. Free Will (Helen Steward, University of Leeds).
12. Language and Meaning (R. M. Sainsbury, University of Texas).
13. Scientific Inquiry (Marc Lange, University of North Carolina).
14. Causation and Laws of Nature (Barry Dainton, University of Liverpool).
15. Ethical Value (Mark LeBar, Ohio University).
16. Ethical Choice (Philip Stratton-Lake, University of Reading).
17. Artistic Value (Peter Lamarque, University of York).
18. Existence of God (Paul O'Grady, Trinity College Dublin).
19. The State (Michael Huemer, University of Colorado).
20. Liberty (Matt Zwolinski, University of San Diego).
Index.
An accessible introduction to the central issues of philosophy

Organized around key philosophical issues - ranging from truth, knowledge and reality to free will, ethics and the existence of God
Provides beginning students with the information and skills to delve deeper into philosophical fields of study
Written by experienced teachers in their fields of expertise