Ceramic Armor and Armor Systems II: Proceedings of the 107th Annual Meeting of The American Ceramic Society, Baltimore, Maryland, USA 2005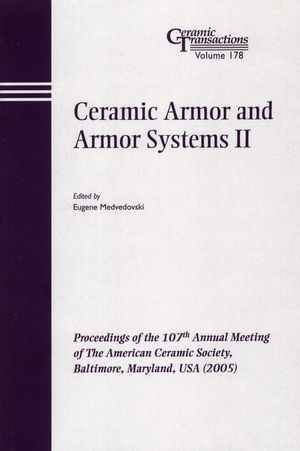 Ceramic Armor and Armor Systems II: Proceedings of the 107th Annual Meeting of The American Ceramic Society, Baltimore, Maryland, USA 2005
ISBN: 978-1-574-98248-0 December 2005 157 Pages
Description
Contains papers on the development and incorporation of ceramic materials for armor applications. Topics include impact and penetration modeling, dynamic and static testing to predict performance, damage characterization, non-destructive evaluation and novel material concepts.
Table of contents
Ceramic Armor Development and Study.
Advanced Ceramics for Personnel Armor: Current Status and Future (E. Medvedovski).
Characterization of AlONTM Optical Ceramic (T.M. Hartnett, C.T. Warner, D. Fisher, W. Sunne).
Synthesis of Dense B4C-SiC-TiB2 Composites (S. Hayun, N. Frage, H. Dilman, V. Tourbabin, M.P. Dariel).
Biomorphic Reaction Bonded Silicon Carbide Ceramics for Armor Applications (B. Heidenreich, M. Gahr, E. Medvedovski ).
Reaction-Bonded SiC Composites without Residual Si (J.P. Hurley, V. Singh, J.A. Hamling).
Microstructural Engineering of the Si-C-Al-O-N System (R.M. Flinders, D. Ray, A. Anderson, R.A. Cutler).
Ceramic-Polymer Composites for Ballistic Protection (P. Colombo, E. Medvedovski, F. Zordan).
Grain Boundary and Triple Junction Chemistry of Silicon Carbide with Aluminum and Aluminum Nitride Additive (E. Pabit, S. Crane, K. Seiben, D.P. Butt, D. Ray, R.M. Flinders, R.A. Cutler ).
Defect Engineering of Samples for Non-Destructive Evaluation (NDE) Ultrasound Testing (R. Brennan, R. Haber, D. Niesz, J. McCauley).
Defining Microstructural Tolerance Limits of Defects for SiC Armor (M.V. Demirbas, R.A. Haber).


Fracture Mechanism of Ceramic Armor.

Characterization of Subsurface Damages of Static and Dynamic Indented Armor Ceramics: SiC and Si3N4 (J.H. Kim, Y.G. Kim, D.K. Kim).

Compressive Failure Threshold of Brittle Materials (E.B. Zaretsky, V.E. Paris, G.I. Kanel, A. Rajendran).
Dynamic Response of B4C-SiC Ceramic Composites (S. Hayun, N. Frage, M.P. Dariel, E. Zaretsky, Y. Ashuah).