Ceramic Innovations in the 20th Century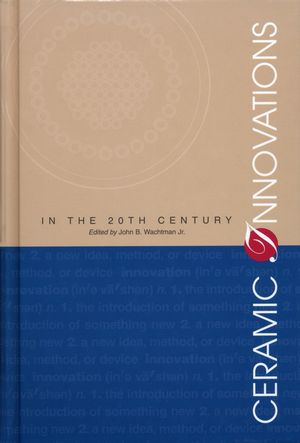 Ceramic Innovations in the 20th Century
ISBN: 978-1-574-98093-6
Jan 1999
307 pages
Description
More than 100 important innovations in ceramics in the last 100 years are individually described. These include such major advances as the float glass process, continuous glass fibers and glass wool, the zirconia oxygen sensor, honeycomb ceramics, tape casting and multilayer ceramics, advances in tunnel kilns, low loss optical fiber, dental ceramics, basic oxygen steelmaking refractories, and uranium dioxide as a nuclear fuel. In addition, a summary of progress in ceramics is given that relates ceramic advances to general trends in the progress of science and industrial development.
The Development of Modern Ceramic Technology (John B. Wachtman).


Introduction.

Trends in Ceramic Technology before 1899.

Trends in Ceramic Technology since 1899.

Advances in Ceramic Technology since 1899 Grouped by Application.

Archaeology.

Automobiles and Related Vehicles.

Ceramic Processing Technology for General Applications of Ceramics.

Ceramic Coatings Technology.

Chemical and Structural Studies.

Consumer Products.

Defense.

Electrical and Electronic Uses of Ceramics.

Fluid Filters.

Glass Production Technology for General Applications.

Lasers.

Machinery in General.

Machining of Metals and Ceramics.

Mechanical Property Enhancement.

Medical and Dental Applications.

Nuclear Applications.

Optical Communications.

Radio and Television.

Refractories for Metal, Glass and Cement Processing.

Sensors.

Single Crystals

Synthesis of Totally New Ceramic Materials.

Descriptions of Important Ceramic Innovations in the Past 100 Years.

Basic Ceramic Processing.


Powders.

Low-Soda Calcined Alumina (G. MacZura).

Tabular Alumina Aggregates (R.A. Marra).

Calcined and Reactive Aluminas (R. Racher).

Silicon Nitride Powder Improvement (T. Yamada).

Nanophase Ceramics (B.H. Kear and G. Skandan).

Nanopowder Process for Ultra-Fine and Ultra-Fast Pulverizing (K. Kugimiya).

Spray Drying (S. Lukasiewicz).


Forming.

Isotatic Pressing (J.W. Hinton and J.S. Owens).

Ceramic Injection Molding (G. Krug).

Enzyme Catalysis in Ceramic Forming (L.J. Gauckler, T.J. Graule, and F.H. Baader).

Tape Casting (E.R. Twiname and R.E. Mistler).

Sheet-Formed Ceramics (J. Thompson).

Laminated Multilayer Ceramic Technology (D.L. Wilcox Sr).


Firing.

Kiln Design Innovations in the 20th Century (R.J. Eicher).

Conveyer Technology for Tile Firing in Tunnel Kilns (A.E. Rokhvarger).

Hot Isostatic Pressing (Dale Niesz).

Sintering of Alumina at Temperatures of 1400°C and Below (E.P. Hyatt).

Pore-Free Ceramics (J. Burke).

Pore-Free Silicon Carbide Ceramics (S. Prochazka).


Special Chemical Processing.

Early History of Sol-Gel Ceramics (T.E. Wood0.

Sol-Gel Processing of Ceramics (R. Roy0.

Sol-Gel Ceramic Products (H.G. Sowman0.

Large Silica Glass Bodies from Colloidal Sols (D.W. Johnson, Jr. and J.B. Mac Chesney).


Basic Glass Processing.

Glass Windows, Bottles, and Bulbs.

Float Glass Process (W.R. Prindle).

Enhanced Float-Glass Process (T. Nishikori).

Ribbon Machine for Glass Bulbs (W.R. Prindle).

Ribbon Machine for Glass Light Bulb Forming (W. Rhodes and R. Alspaugh).

Owens Suction Bottle Machine (W.R. Prindle).

Danner Process for Making Glass Tubing (W.R. Prindle).

Continuous Melting of Optical Glass (W.R. Prindle).


Fiberglass.

Continuous Glass Fibers (D. Hofmann0.

Steam-Blown Glass Wool (C. Rapp0.

Rotary Fiberizing (N. Cameron0.


Glass Specialty Items.

Glass-Ceramics (L.R. Pinckney).

Glass-Ceramics (A.R. Boccaccini).

Radiant Glass-Ceramic Cooktops (G.H. Beall).

Glass Microspheres (W. Beck).

Laminated Glass (P.S. Danielson).

Borosilicate Laboratory and Consumer Glassware (P.S. Danielson).

Large, Flat-Glass TV Tubes (Y. Sato).

Automotive Solar Control Electrically Heated Windshield (E.N. Boulos).

Automotive Tempered Window 2.5 mm Thick (M. Iwase).

Photochromic and Photosensitive Glasses (R.J. Araujo).

Ceramic and Glass Foodware Safety (E. Ruh, L.S. Geczi, and R. Lehman).


Ceramics in the Processing of Other Materials.


Refractories.

Basic Oxygen Process Refractories (R. Bradt).

Resin-Bonded Magnesia-Graphite Refractories for Application in Basic Oxygen Furnaces (J. Ainsworth).

Refractory Slide Gates (E. Ruh).

High-Purity Calcium Aluminate Cements (R. McConnell).

Advanced Refractory Castables (R.E. Fisher).

Fusion Cast Refractories (M.A. Nelson).

Fused Cast High-Zirconia Refractories (K. Tajima).

Fused Cast Refractories for Molten Glass Contact Application (S.M. Winder).

Fused Cast Refractories for Glassmelting Superstructure Application (S.M. Winder).

Dense Zirconia Refractories (A.D. Davis Jr).

Chromic Oxide Refractories (A.D. Davis Jr).

Doloma Zirconia Refractories (D. Griffin).

Electric Melting of Glass with Molybdenum or Tin Oxide Electrodes (R.W. Palmquist).

Refractory Tin Oxide Electrodes (A.D. Davis Jr).

Refractory Insulating Fiber (J.M. Webb).


Metal Processing.

Ceramic Shell Mold Investment Casting Process (M. Yasrebi, D.H. Sturgis and K. Taft).

Ceramic Cores for Investment Casting (S. Uram).


Abrasives, Cutting Tools, and Wear-Resistant Materials.

Advances in Abrasive Materials Technology in the Past Hundred Years (D.A. Sheldon).

Acheson Process for Silicon Carbide (N.N. Ault).

Synthetic Superhard Materials: Diamond and Cubic Boron Nitride (R.C. DeVries).

Cemented Carbide (H. Pastor).

Nanophase Cemented Carbides (B.H. Kear and L.E. McCandlish).

Monolithic Silicon Carbide by CVD (M.A. Pickering).

SiC-Whisker-Reinforced Ceramics (T. Tiegs).


Functional Use of Ceramics.

Electrical Insulators, Dielectrics and Conductors.

Barium Titanate (H. Thurnauer).

Microwave Dielectric Ceramics (H. O'Bryan).

Ceramic Ion Conductors (R.S. Gordon).

Superconducting Ceramics (R.J. Cava).

Zinc Oxide Varistors (L.M. Levinson).


Transducers and Actuators.

Piezoelectric Ceramics in Medical Ultrasonic Imaging (T.R. Gururaja).

Piezoelectric Ceramics from Igniters to Computers and Telecommunication Devices (K. Kugimiya).

Telecommunication Devices (K. Kugimiya).

Piezoceramic Vibration Control (B. Mulcahey and R.L. Spangler).


Magnetic Ceramics.

Hard Ferrites (A. Goldman).

Soft Ferrites (J.B. Ings).

Magnetic Recording Media (R.J. Youngquist).

Crystal Oriented Hot-Pressed Manganese Zinc Ferrites (K. Kugimiya).


Optical Ceramics and Glasses.

A1ON Transparent Ceramic (Aluminum Oxynitride) (E.A. Maguire).

Chemically Vapor Deposited ZnS and ZnSe (B.A. diBenedetto).

Uncooled Infrared Cameras (B.M. Kulwicki).

Electroopic Ceramics (G. Haertling).


Glass Lasers.

Glass and Ceramic Lasers (M.J. Dejneka).

Glass Lasers (E.W. Deeg).

Low-Loss Optical Fiber (J.B. MacChesney).

Erbium-Doped Optical Fiber Amplifiers (K. Walker).

Ultraviolet-Induced Refractive Index Changes in Glasses (T.A. Strasser).


Sensors.

Positive Temperature Coefficient Resistors (B.M. Kulwicki).

Smart Electroceramics (R.E. Newnham).

Fiber Optic Sensors (R. Wastwig).

Zirconia Oxygen Sensors (E.M. Logothetis).

Humidity Sensor for Automatic Microwave Ovens (K. Kugimiya).


Structural Ceramics.

Ceramic Armor (S.R. Skaggs and J.A. Rubin).

Continuous Ceramic Fibers (R.E. Tressler).

Tough SiC-Based Thermostructural Ceramic-Matrix Composites (R.R. Naslain and P.J. Lamicq).

Melt-Infil Transformation Toughening in ZrO2-Based Ceramics (A.H. Heuer).

High-Performance Reactive Powder Concrete (P.R. Boch).

Chemical Tempering of Glass Products (E.W. Deeg).

In situ-Reinforced Silicon Nitride (C.-W. Li).

Silicon Nitride Turbocharger Rotors (J. Holowczak, T. Sakamoto and D. Carruthers).

First Man-Rated Spacecraft Application for Silicon Nitride Ceramic Bearings (J. Holowczak and R. Bursey Jr.).


Special Applications of Ceramics.

Medical and Dental Ceramics.

Bioceramics (J.F. Shackelford).

Bioactive Glasses, Ceramics and Glass-Ceramics (L.L. Hench).

Hydroxyapatite Coatings Assist Bone Bonding (K.A. Gross).

Dental Ceramics (J.R. Kelly).

Dental Restoration-Porcelain-Fused-to-Metal (P.J. Cascone).

Sol-Gel Transplantation Therapies (E.J.A. Pope).

Ceramic Scintillators for Medical X-ray Detectors in Computed-Tomography Body Scanners (C.D. Greskovich).


Nuclear and Environmental Ceramics.

Uranium Dioxide (UO2) as a Nuclear Fuel (I.J. Hastings).

Ceramic Fuel for Space Exploration (D.T. Rankin).

Nuclear Waste Glasses (G.G. Wicks).

Honeycomb Ceramics (J.R. Johnson).

Honeycomb Ceramics (M.K. Faber).


Other Special Ceramics and Techniques.

Inorganic Ceramic Membranes (A.J. Burggraaf).

Ceramic Water Filter (R. Roth).

Low-Expansion Ceramics (R. Roy).

Phase Diagrams for Ceramists (S. Freiman and R. Roy).

Thermoluminescence Dating of Ceramics (C. Maurer).

Tubular-Sheathed Heaters (M. Borom).

Single-Crystal Oxide Materials (T. Keig).

Mass Production of Refractory Oxide Crystals: Cubic-Zirconia (J.F. Wenckus).

Gas-Metal Eutectic Direct Bonding for Advanced Metallization and Metal Joining (V.A. Greenhut).

Ceramics for Paper (V.A. Greenhut).