Ceramic Nanomaterials and Nanotechnology IV: Proceedings of the 107th Annual Meeting of The American Ceramic Society, Baltimore, Maryland, USA 2005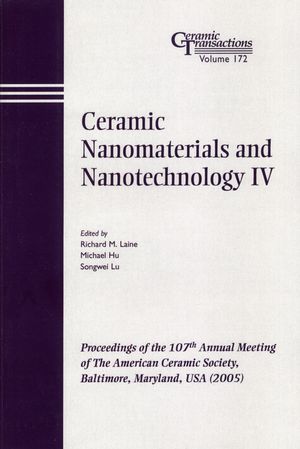 Ceramic Nanomaterials and Nanotechnology IV: Proceedings of the 107th Annual Meeting of The American Ceramic Society, Baltimore, Maryland, USA 2005
ISBN: 978-1-118-40804-9
Apr 2012
282 pages
Description
Since the beginning of the nanotechnology era, research and development in this field has experienced an explosive growth in academia and industry. Topics covered in this book include synthesis and characterization of nanomaterials, nanoscale phenomena in electronic ceramics, nanostructured bioceramics, industrial development and application, and much more.
Nanostructured Materials and Nanotechnology.
Multi-Scale Agglomerates Synthesis by Homogeneous Precipitation (M.K. Mekki Berrada, F. Gruy, T. Kuntzsch, M.Cournil).

Characterization and Properties of Calcium Silicate Hydrates Nanocomposites (S.C. Mojumdar, L. Raki).

Grain Growth Of Sol-Gel Derived Tin Oxide Nanoparticles And The Effects Of Platinum Doping (Y. Tang, M.R. DeGuire).

Nanotechnology for Neutralization of Terrorist Explosives (A.W. Apblett, B.P. Kiran, S. Malka, N.F. Materer, A. Piquette).

Chemical-Solution Deposition Of Hafnia Films On Self-Assembled Molecular Monolayers: Part I - Film Characterization (M.Z. Hu, A.C. DeBaillie, Y. Wei, G.E. Jellison).

Chemical-Solution Deposition Of Hafnia Films On Self-Assembled Molecular Monolayers: Part II - Precipitation Behavior In Bulk Solutions (M.Z. Hu, A.C. DeBaillie, Y. Wei, G.E. Jellison).

Co-Precipitation Synthesis of Nano-Sized Yttrium Aluminium Garnet (YAG) Powders (J. He, A. Bell).

Growth of Tube-like B-N Compounds by Chemical Vapor Deposition (CVD) (L. Guo, R.N. Singh, H.J. Kleebe).

Incorporation of Nano Materials in Random Hole Optical Fibers (N.J. Manjooran, G.R. Pickrell).

High Shear Casting of Nanoparticulate TiO2 (N. Venugopal, R.A. Haber, S.M. Augustine, R.D. Skala).
Preparation Of ZrO2 Nanoparticles And Nanostructured Coatings Via Modified Emulsion Precipitation (J. Shi, H. Verweij).

Dye Sensitised Solar Cells: A Comparative Study Using Different Nanocrystalline-Titania (C.S. Karthikeyan, M. Thelakkatb, M. Willert-Poradaa).

Synthesis and Densification Studies of Nanocrystalline Titanium Dioxide Ceramics (S. Qiu, S.J. Kalita).
Molecular Routes to One Dimensional Nanostructures (S. Mathur, H. Shen).

Synthesis of Silicon Carbide Nanowires from a Mixture of CaCO3 and Si Powders (M. Bechelany, D. Cornu, F. Chassagneux, S. Bernard, F. Cauwet, L. Mollet, P. Miele).

Preliminary Results of Activated Sintering Mechanism and Grain Boundary Prewetting/Premelting in Nickel-Doped Tungsten (V.K. Gupta, D.H. Yoon, J. Luo, H.M. Meyer III).


Nanostructured Biomaterials.

Increased Osteoblast Functions on Nanophase Hydroxyapatite Coatings on Titanium (M. Sato, M.A. Sambityo, A. Aslani, N.M. Kalkhoran, E.B. Slamovich, T.J. Webster).

Complementary Fungus-Derived Micro-Porosity in Nano Materials (N.J. Manjooran, G.R. Pickrell).

Formation of Apatite Coatings on Chemically Bonded Ceramics (L. Hermansson, H. Engqvist).
Development of Aqueous Sol-Gel Method for Synthesis of Nanostructured SiO2-BaO Powder for use in Dental Composite Resins (N.N. Ghosh).

Interaction of DNA with Nano-structured Beta-Gallia-Rutile Surfaces (N. Empie, D. Edwards).

Chemically Bonded Nano-Size Bioceramics Based on Ca-Aluminates (H. Engqvist, L. Hermansson).

Biologically Derived Nano and Micro Porous Materials (G.R. Pickrell, N.J. Manjooran).


Nanoindentation and Scanning Probe Microscopy.

Investigations of Ceramics and Ferroelectric Materials by Atomic Force Acoustic Microscopy (W. Arnold).

Separation of Lattice Structural Effects and Electronic Contributions to Physical Properties with Nanotechnology (S. Li, Y.Y. Tay, C.Q. Sun).

Coupling of Magnetic Order, Ferroelectricity, and Lattice Strain in Multiferroic Rare Earth Manganites (B. Lorenz, C.R. dela Cruz, F. Yen, Y.Q. Wang, Y.Y. Sun, C.W. Chu).