Ceramic Processing before Firing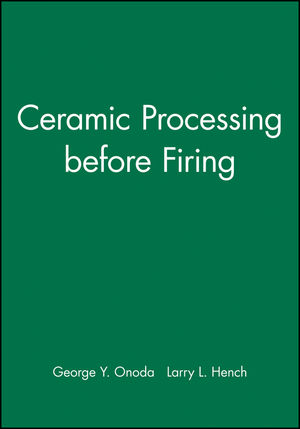 Ceramic Processing before Firing
ISBN: 978-0-471-65410-0
Jan 1978
512 pages
Description
Provides a systematic scientific basis for understanding and controlling the processing of powders and ceramic bodies. Applies a wide range of analytical tools for characterizing agglomerate features throughout the processing steps. Contains electron and optical micrographs and discusses the improvement of product reliability, reduction of costs, and energy and environmental concerns.
Introductory.

Cycles in Ceramic History (F. H. Norzwalder).

Processing Controls in Technical Ceramics. (K. Schwartzwalder).

Powders.

Active Powders (I. B. Cutler).

Characterization and Process Interactions (W. M. Flock), Physical Characterization Terminology (G. Y. Onoda, Jr.

and L. L.

Hench).

Physical Characterization Techniques for Particles (C. Orr, Jr.).

Structure and Properties of Agglomerates (D. E. Niesz and R. B.

Bennett).

Characterization of Agglomerates with Transmission Electron Microscopy (L. L. Herich and E. J.

Jenkins).

Bayer-Processed Aluminas (W. M. Flock).

Grinding of Aluminas (M. Berg.) Theories of Grinding (P. Somasundaran).

Reactive Powders from Solution (D. W. Johnson, Jr.

and P. K.

Gallagher).

Lattice Strain in Alumina Powders (J. P. Page, E. A.

Metzbower, D. J.

Shanefield, and D. P.

H.

Hasselman).

Agglomeration Effects on the Sintering of Alumina Powders Prepared by Autoclaving Aluminum Metal (R. T. Tremper and R. S.

Gordon).

Layer-Silicate Minerals (H. Heystek).

Particulate-Water Systems.

The Structure of Water and its Role in Clay-Water Systems (W. G. Lawrence).

Particle-Size Distribution and Slip Properties (G. W. Phelps and M. G.

McLaren).

Viscosity of Concentrated Newtonian Suspensions (K. Sommer).

The Rheology of Organic Binder Solutions (G. Y. Onoda, Jr.).

Mixedness of Suspensions (K. Sommer and H. Rumpf).

Quantitative Theory of Cracking and Warping During the Drying of Clay Bodies (A. R. Cooper).

Mineralogy of Curing and Drying of a Refractory Concrete (R. E. Farris and J. S.

Masdryls).

Green-Body Formation and Microstructure.

Firing--The Proof Test for Ceramic Processing (W. K. Kingery).

Effect of Process Optimization Properties of Alumina Sintered under Rate Control (T. M. Hare and H. Palmour, III).

Dynamic Particle Stacking (F. N. Rhines).

Particle Compaction (O. J. Whittemore, Jr.) Adhesion Forces in Agglomeration Processes (H. Rumpf and H. Schubert).

Strength and Microstructures of Dried Clay Mixtures (W. O. Williamson).

Extrusion Defects (D. C. Robinson).

Processes and Applications.

Tape Casting of Ceramics (R. E. Mintler, D. J.

Shanefield and R. B.

Runk).

Zinc Orthotitanate Powders for Thermal Control Coatings (Y. Harada and D. W.

Gates).

Characterization of Powders for Thick Films and Capacitors (K. K. Verma and A. Roberts).

Future Directions in Processing Research (J. A. Park, A. G.

Pinkus, R. Russell, Jr., J. E.

Burke, R. A.

Alleigo, W. B.

Crandall, D. W.

Fuerstenau).

Index.