Ceramography: Preparation and Analysis of Ceramic Microstructures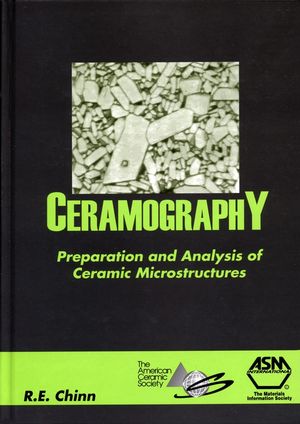 Ceramography: Preparation and Analysis of Ceramic Microstructures
ISBN: 978-0-871-70770-3
Sep 2002
230 pages
Description
Ceramography provides detailed instructions on how to saw, mount, grind, polish, etch, examine, interpret and measure ceramic microstructures. This new book includes an atlas of ceramic microstructures, quantitative microstructural example problems with solutions, properties and data tables specific to ceramic microstructures, more than 100 original photographs and illustrations, and numerous practical tips and tricks of the trade.

An excellent reference guide for technicians in quality control and R&D, process engineers in ceramic manufacturing, and their counterparts in engineering firms, national laboratories, research institutes, and universities.
Introduction.
Ceramography in Materials Science.
Crystallography.
Laboratory Safety.
Ceramographic Laboratory Design.


Ceramic Fabrication.
Ceramics
Commercial Fabrication of Ceramics
Laboratory Fabrication of Ceramics

Sawing and Mounting.
Sawing.
Mounting.
Edge Retention.
Beveled Edge.
Ceramographic Mounting Resins.


Grinding and Polishing.
Automatic Grinding.
Automatic Polishing.
Manual Grinding.
Manual Polishing.
Grinding and Polishing Accessories.

Etching.
Thermal Etching.
Chemical Etching.
Electrolytic Etching.
Other Etching Methods.
Overetched Ceramics.

Petrographic Thin Section Preparation.
Sawing.
Mounting.
Grinding.


Optics and Microscopy.
The Microscope.
Köhler Illumination.
Magnification and Resolution.
Depth of Field.
Differential Interference Contrast.
Dark-Field Illumination.
Oil Immersion.
Stereomicroscopy.
Crystal Optics.
Petrography-Transmitted Light and Thin Sections.
Replication and Field Ceramography.
Sputter Coating.
Scanning Electron Microscopy.
Other Microscope Types.
As-Fired Surface.
Stereo Pairs.
Acoustic Microscopy.
Confocal Laser Scanning Microscopy.
Micrography.

Atlas of Ceramic Microstructures.
Alumina.
Borides.
Carbides.
Composites.
Metallized Ceramics.
Nitrides.
Oxides.
Silicon Carbide.
Spinel.
Zirconia.

Quantitative Ceramography.
Stereology.
Grain Size.
Grain Shape.
Porosity and Second-Phase Content.
Microindentation Hardness.
Toughness.

Qualitative Ceramography.
Morphology.
Phase Determination.
Preferred Orientation.
Fractography.
Artifacts.

Image Analysis.
Algorithm.
Critical Aspects.
Measurements.
Digital Images.

Appendix A: ASTM Procedures Applicable to Ceramography.
Headings in the ASTM Subject Index.

Appendix B: Ceramographic Equipment Manufacturers.

Appendix C: Abrasive Size Equivalents.