Cerebrovascular Ultrasound in Stroke Prevention and Treatment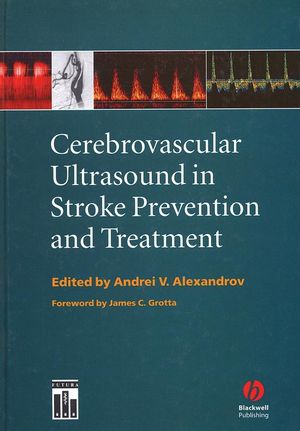 Cerebrovascular Ultrasound in Stroke Prevention and Treatment
ISBN: 978-0-470-75285-2
Apr 2008, Wiley-Blackwell
288 pages
Description
Ultrasound enables us to monitor the cardiovascular system and brain responses to treatment in real time; a genuine blessing on the route to more effective stroke therapies, and an invaluable tool with which to tailor treatment when available evidence is meagre. Ultrasound is a vital observational tool, yet a probe needs a scientist to point it in the right direction and a skilled physician to synthesise scientific data with practical management strategies.

This book, intended for clinicians who are eager to learn and prepared to observe, focusses on the examination of stroke patients, the interpretation of ultrasound studies, and the application of cerebrovascular ultrasound to management and treatment strategies. Produced by an international team of contributors and edited at the University of Texas, one of the major world centres in stroke research, it is a practical volume that can be used by beginners to learn the principles of ultrasound testing, by advanced users to learn differential diagnosis, and by clinicians (non-sonographers) who treat stroke patients. The latter will gain knowledge on how to apply ultrasound, and what to expect from it in terms of clinical decision making and treatment selection.
Contributors
.
Foreword: Ultrasound: What's in the Waveforms?.
J. Grotta.
Preface.
Acknowlegements.
.
Contributors.
Part I. How To Perform Ultrasound Tests?.
1. Cerebrovascular Anatomy and Principles of Extracranial Ultrasound and Examination Techniques.
M. Neumyer, A. Alexandrov.
2. Intracranial Cerebrovascular Ultrasound Examination Techniques.
A. Alexandrov, M. Neumyer.
3. Color Flow Anatomy of the Circle of Willis.
E. Bartels, A. Alexandrov.
Part II. Hemodynamic Principles.
4. Integrated Assessment of Systemic and Intracranial Hemodynamics.
A. Wojner.
5. Practical Models of Cerebral Hemodynamics and Waveform Recognition.
A. Alexandrov.
Part III. Criteria for Interpretation.
6. Diagnostic Criteria for Neurovascular Studies.
A. Alexandrov, M. Neumyer.
Part IV. Ultrasound in Stroke Prevention and Treatment.
7. TCD and Sickle Cell Disease.
F. Nichols, A. Jones, R. Adams.
8. Cardiovascular Risk Factors and Carotid Ultrasound.
J. Polak.
9. Carotid Vertebral Duplex Scanning in Secondary Stroke Prevention and Stenting.
C. Tegeler, D. Ratanakorn.
10. Acute Ischemic Stroke.
A. Demchuk, A. Alexandrov.
11. Vasospasm after Subarachnoid Hemorrhage.
D. Newell, A. Alexandrov.
.
.
.
.
Part V. Select Clinical Applications and Clinical Vignettes.
A. Alexandrov.
Typical Vasospasm After Subarachnoid Hemorrhage.
with M. MalkofF.
Bilateral ACA Vasospasm.
with J. Nates.
Multiple Vessel Vasospasm.
with I. Christou.
Cerebral Circulatory Arrest.
with S. Calleja.
Anatomical Variation or a Hemodynamically Significant Lesion?.
with E. Bartels.
Subclavian Steal.
with F. Al-Senani.
Carotid Dissection.
with M. Malkoff.
Carotid Thromboembolism.
with K. Uchino.
Monitoring Carotid Endarterectomy.
with A. Estrera.
Brain Retroperfusion.
with Z. Garami and H. Safi.
MCA Stenosis.
with R. Felberg.
Acute Tandem ICA and MCA Occlusion.
with A. El-Mitwalli, and J. Song.
Arterial Recanalization and Dramatic Recovery from Stroke.
with R. Felberg.
Arterial Re-Occlusion and Deterioration Following Improvement.
with S. Burgin.
Extended Window for Thrombolysis.
with the Stroke Team.
Index
Review of the textbook
"Cerebrovascular Ultrasound in Stroke prevention and Treatment" Edited by Andrei V. Alexandrov

Assistant Professor of Neurology and Radiology, Director, STAT Neurosonology Service and Center for Non-invasive Brain Perfusion Studies Stroke Program, University of Texas-Houston Medical School Houston Texas

First Edition, 2004. 267 pages. Blackwell Publishing www.blackwellpublishing.com, www.blackwellfutura.com

This book has been produced by an international team of contributors, edited at the University of Texas and is aimed at three types of individuals: beginners to learn the basics of ultrasound testing, advanced users to learn differential diagnosis and clinicians involved in treating stroke patients. The text is packed full of useful practical information and has excellent illustrations and TCD images. However, the content is not basic and beginners wishing to start TCD would be advised to read simpler texts prior to this book. It is divided into five parts: Part I-How to perform ultrasound tests covers both extracranial and intracranial ultrasound examination with an emphasis on standardisation for carotid duplex. The techniques for carrying out single-gated spectra (TCD), power-motion Doppler (M-mode) and transcranial colour duplex imaging (TCCS) are outlined in a simple and clear manner. The advantages of M-mode (easier window-finding) and TCCS (identifying anomalies of the circle of Willis) for the beginner are emphasised but the caveat for both M-mode and TCCS is spectral resolution and it is acknowledged that experienced operators will still use single-gated TCD. Part II-Haemodynamic principles is a "heavy" section but will be of particular interest to anyone working in the intensive care/surgical setting. The chapter on practical models of cerebral haemodynamics importantly emphasises spectral waveform recognition rather than the usual emphasis on velocity. Part III-Criteria for interpretation. is an excellent section covering diagnostic and validation criteria for carotid stenosis, carotid and vertebral artery dissection and occlusion, intracerebral arterial vasospasm, embolism detection, with a good description of the TIBI ultrasound classification for large vessel occlusion. Part IV–Ultrasound in stroke prevention and treatment covers ultrasound findings of specific diseases including sickle cell disease, cardiovascular risk, secondary stroke prevention, acute ischaemic stroke, subarachnoid haemorrhage. The chapter on ischaemic stroke discusses the potential therapeutic use of TCD and is well worth reading. Part V–Select clinical applications and clinical vignettes includes an interesting collection of anecdotal vascular cases covering areas, which can give diagnostic difficulty. The exciting parts of this book have to be the emphasis on the potential therapeutic use of diagnostic TCD and the focus on waveform analysis rather than velocity measurements. This opens up TCD as a bedside tool, which will hopefully mean that more clinicians will start using this powerful technique.

Dr Paul Syme

Consultant Physician

Lead Stroke Physician NHS Borders

Part-time Senior lecturer University of Edinburgh


The book addresses both the principles of examination and interpretation of ultrasound studies and application of cerebrovascular ultrasound to the management and treatment of stroke patients


Fully international contributor team


Produced by one of the major centres in stroke management 'University of Texas'