Challenges in Inflammatory Bowel Disease, 2nd Edition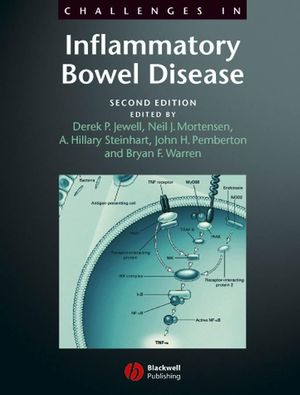 Challenges in Inflammatory Bowel Disease, 2nd Edition
ISBN: 978-0-470-75317-0 January 2008 Wiley-Blackwell 416 Pages
Description
Reviews focused topics – both clinical and basic science - in the fast-moving area of IBD, providing emphasis on the current challenges faced in the successful management of the disease
Turn to Challenges in Inflammatory Bowel Disease (IBD) when you need an expert opinion on the new, unusual or controversial areas of IBD and not just the tried and tested information. Current and concise reviews of the latest scientific discoveries are translated into cutting-edge clinical guidance to address those challenging cases faced by every medical team caring for patients with IBD.

Refer to this book to answer burning questions, to read an in depth review of the controversial topics and to provide a clear explanation of issues.
Table of contents
List of Contributors and Editors.
Preface.
I Clues to aetiology and pathogenesis.
1 Richard F. A. Logan and Emma L. Armitage.
Global changes in incidence.
2 John B. Beckly, Tariq Ahmad and Derek P. Jewell.
The role of genetics in inflammatory bowel disease.
3 Robin G. Lorenz and Charles O. Elson.
Microbial sensing in the intestine by pattern recognition receptors.
4 Robert Penner and Karen Madsen.
The role of bacteria.
5 Kenneth Croitoru.
The appendix – how might it influence susceptibility to ulcerative.
colitis: the legend of Qebehsenuef.
II Diagnosis and assessment.
6 Bryan F. Warren and Neil A. Shepherd.
What are the controversies in histopathological diagnosis?.
7 Gary C. Chen and Simon K. Lo.
The challenges of using capsule endoscopy in the diagnosis and management of inflammatory bowel disease.
8 Stuart Taylor and Steve Halligan.
Cross-sectional imaging of inflammatory bowel disease.
III Management of ulcerative colitis.
9 Miles P. Sparrow, Wee-Chian Lim and Stephen B. Hanauer.
Mesalazine for maintenance therapy in ulcerative colitis – how much, how long?.
10 Simon Travis.
Refractory distal colitis.
11 Fergus Shanahan, Jude Ryan and Shomik Sibartie.
Pharmabiotics and inflammatory bowel disease – on the verge of evidence-based medicine.
12 R. John Nicholls and Mark J. Cheetham.
Current controversies in the surgical management of ulcerative colitis.
13 Alan F. Horgan, William J. Sandborn and John H. Pemberton.
What are the causes and treatment of ileoanal pouch dysfunction?.
IV Management of Crohn's disease.
14 A. Hillary Steinhart.
Is mesalazine useful in Crohn's disease?.
15 Miquel A. Gassull.
Steroids or nutrition?.
16 Severine Vermeire and Paul Rutgeerts.
Do antibiotics have a role in Crohn's disease?.
17 Geert D'Haens.
The optimal use of infliximab in Crohn's disease.
18 Stephan R. Targan and Loren C. Karp.
Designer drugs: from bench to bedside.
19 W.M. Chambers, I. Lindsey and N.J. Mortensen.
Current controversies in the surgical management of Crohn's disease.
20 Carl J. Brown and Robin S. Mcleod.
Perianal Crohn's disease.
21 Karel Geboes.
What is dysplasia?.
22 Urban Sjoqvist and Robert Lofberg.
Colonoscopic surveillance – if and when?.
23 Ralf Kiesslich and Markus F. Neurath.
Cancer: new colonoscopic techniques.
24 Jacintha N. O'Sullivan and Teresa A. Brentnall.
Molecular markers – a realistic hope?.
25 Maha Guindi and Robert H. Riddell.
Adenomas versus dysplasia associated lesion or mass – recognition and management?.
V Special management problems.
26 Thomas D. Walters and Anne M. Griffiths.
Growth impairment in children.
27 Subrata Ghosh.
Osteopenia.
28 Philippe Marteau.
Pregnancy.
29 Robert Hilsden and Lloyd Sutherland.
Can prognosis of ulcerative colitis be predicted?.
Index
Reviews
"it should be used as a reference for the student of IBD and/or the clinician treating patients with IBD. In one text, it has thoroughly covered research pertaining to both basic science and clinical publications. It challenges the reader's imagination regarding the true causes and gives concrete treatment recommendations."
Diseases of the Colon&Rectum
"This book will appeal to all those with an interest in IBD and a desire to explore the latest evidence driving both scientific research and clinical practice. Its strength is that it is limited to areas of controversy and change, and as such will undoubtedly run to many more editions."
Gut

"This book is a worthy edition to anyone's library who has a particular interest in the field. It is extensively referenced, well illustrated and represents excellent value for money."
Colorectal Disease

From a review of the first edition:
"The editors and publishers have succeeded admirably in at least three respects... Firstly, they have assembled an all-star cast of contributors ... Secondly, they have constructed this monograph ingeniously. Each chapter title is phrased as a question, which is then examined critically with scores of references that are pertinent and up to date. As a third defining feature of this ambitious volume, the editors have demanded and received from their authors highly critical analyses of "the most recently available evidence". The authors analyse and interpret the evidence in ways that allow each chapter to reach reasonably well founded conclusions."
Gut
What's New
New and controversial topics in the fast moving area of IBD


Focuses on current issues which are relevant to management of the disease

Each chapter gives a balanced overview of the topics written by experts in the field

Covers all aspects from investigation into the scientific basis of the disease through to its management and prognosis