Challenges in Prostate Cancer, 2nd Edition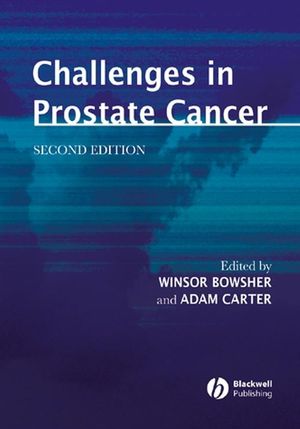 Challenges in Prostate Cancer, 2nd Edition
ISBN: 978-0-470-75500-6 January 2008 Wiley-Blackwell 296 Pages
Description
Prostate cancer continues to be a major threat to men's health, the second most common cancer in men, in many countries. Therefore it is increasingly important that those faced with difficult clinical questions make the right decisions. Since the first volume was published in 2000, many debates persist but new controversies have also emerged, reflected in the chapters of this new volume. New authors have been recruited to give their insight into newer areas of this controversial topic.

Challenges in prostate cancer provides a series of state-of-the-art review articles, each of which addresses and answers a contentious question. It includes chapters on medical and surgical management of all stages of prostate cancer, clinical investigation, epidemiology, clinical trials and basic scientific research and covers issues such as the genetic basis of cancer, clinical economics and influence.


The authors have used their expertise to distil the available evidence into practical advice to be used by busy urologists in their day-to-day practice. And as well as being an overview of current practice many chapters attempt to give insights into the future direction of prostate cancer research and clinical management.
List of contributors.
Part 1: Biological and Scientific Aspects.
1 Tim Lane, Jon Strefford and Tim Oliver.
An Update on Biotechnology in the Assessment of Prostate Cancer.
2 Ludger Barthelmes and Christopher A. Gateley.
What Can We Learn From Breast Cancer?.
3 Bernhard Brehmer, Antonio Smakris and Gerhard Jakse.
New Serum Markers for Prostate Cancer.
4 Kenichiro Ishii and Simon Hayward.
The History of Tissue Recombination Technology: Current and Future Research.
5 Malcolm Mason and John Staffurth.
Why We Cannot Use the Results of Non-Randomised Trials to Inform Us About Treatment for Early Prostate Cancer?.
Part 2: Diagnosis and Evaluation.
6 Bob Djavan, Michael Dobrovits and Michael Marberger.
Equivocal PSAResults and Free Total PSARatio.
7 Murali Varma And David Griffiths .
Equivocal Prostate Needle Biopsies.
8 Richard Clements.
Prostate Biopsy: How Many Cores and Where From?.
9 Gail Beese and Christopher Edmunds.
Counselling Patients With Early Prostate Cancer.
10 Owen Niall and Jamie Kearsley.
The Role of Pelvic Node Dissection in Prostate Cancer.
Part 3: Initial Treatment Policies.
11 Mark Wright.
Laparoscopic Radical Prostatectomy.
12 A. Goyal and W. Bowsher.
Endocrine Therapy for Prostate Cancer: the Latest.
13 Stijn De Vries, Christopher Bangma and Fritz Schröder.
The Role of Conservative Policies in the Treatment of Prostate Cancer.
14 Gary Deng and Barrie Cassileth.
Complementary and Alternative Therapies for Prostate Cancer.
Part 4: Monitoring Progress and SecondaryTreatment.
15 Amir Kaisary.
Radical Prostatectomy After Radical Radiotherapy.
16 Paul Jones and Neil Fenn.
Treatment of Renal Impairment Secondary to Locally Advanced Prostate Cancer.
17 Robert P. Myers, R. Houston Thompson, Stephen M. Schatz and Michael L. Blute.
Open Radical Prostatectomy: How Can Intra-operative, Peri-operative and Post-operative Complications Be Prevented?.
18 Leslie Moffat.
Documenting Prostate Cancer: Epidemiology and Treatment.
19 Steven Oliver, Rhidian Hurle and Owen Hughes.
Trends in Prostate Cancer Incidence and Mortality.
20 Jason Lester and E M Mahudson.
Chemotherapy in Prostate Cancer.
Index.
Colour plates
"Currently there are more questions than answers in prostate cancer and the authors certainly could not have been expected to provide all the solutions for these many difficult issues. They have set out the problems clearly, however, and by doing so set a challenge for all of us in the urological community to provide the evidence based resolution to these many thorny issues by carefully constructed, long-term randomised files."
British Journal of Urology
"...contains useful information and is a helpful resource for understanding many of the controversies in this area."
The Lancet
A balanced view of the issues surrounding prostate cancer, a highly controversial topic.



Prostate cancer is a major and rising threat to men's health



Contains collected review articles covering diagnosis and management



Also covers issues such as the genetic basis of cancer, clinical economics and influence