Challenging Welfare Issues in the Global Countryside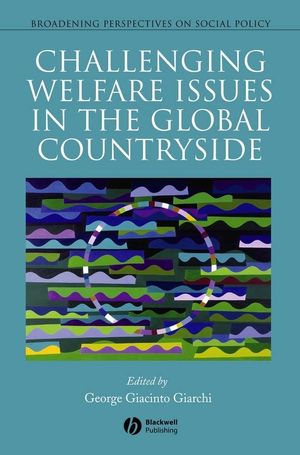 Challenging Welfare Issues in the Global Countryside
ISBN: 978-1-405-16241-8
May 2007, Wiley-Blackwell
176 pages
Description
This book focuses attention upon rural social policy and welfare issues within selected areas in the US, Australia, continental Europe and Britain as well as in countrysides within less industrialised India and Mexico. This edited collection adds to the new genre of geopolitical and socio-economic rural transnational studies.



Discusses the multi-dimensional factors affecting rural space, socio-political urban-rural power relations, conflicting urban-rural tensions and opposed values

Adds to the existing studies of contemporary urban-rural dialogue, in respect of social policy and rural welfare in a changing global countryside
1. Editorial Introduction: George Giacinto Giarchi.
2. Redefining the 'Rural Question': The New 'Politics of the Rural' and Social Policy: Michael Woods.
3. Rural Movements in Europe: Scandinavia and the Accession States: Vanessa Halhead.
4. Market-based Governance and the Challenge for Rural Governments: US Trends: Mildred E. Warner.
5. Between Decentralized Planning and Neo-liberalism: Challenges for the Survival of the Indigenous People of Kerala, India: Darley Jose Kjosavik, Nadarajah Shanmugaratnam.
6. Child Health in Rural Mexico: Has Progresa Reduced Children's Morbidity Risks?: Maria C. Huerta.
7. Rurality and Social Inclusion: A Case of Preschool Education: Mark Shucksmith, Janet Shucksmith, Joyce Watt.
8. Jobs in the Bush: Global Industries and Inclusive Rural Development: Robyn Eversole, John Martin.
9. Older People 'on the Edge' in the Countrysides of Europe: George Giacinto Giarchi.
10. Spinning the Rural Agenda: The Countryside Alliance, Fox Hunting and Social Policy: Alison Anderson.
Index.
?This is an interesting -collection with some chapters providing broad overviews of rural welfare and others detailing the specifics in particular places.? (International Journal of Social Welfare , July 2009)


Analyses rural social policy and welfare issues within selected areas in continental Europe and Britain, US, and Australia as well as in countrysides within less industrialised India and Mexico

Builds on the new genre of geopolitical and socio-economic rural transnational studies

Discusses the multi-dimensional factors affecting rural space, socio-political urban-rural power relations, conflicting urban-rural tensions and opposed values

Adds to the existing studies of contemporary urban-rural dialogue, in respect of social policy and rural welfare in a changing global countryside