Challenging and Emerging Conditions in Emergency Medicine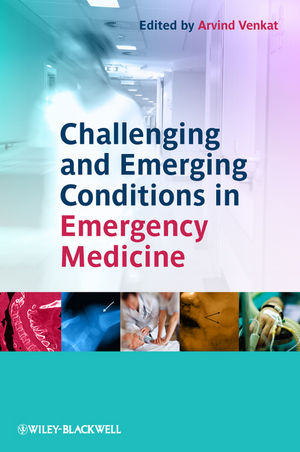 Challenging and Emerging Conditions in Emergency Medicine
ISBN: 978-1-119-97158-0 May 2011 Wiley-Blackwell 376 Pages
Description
With growing numbers of chronically ill patients surviving longer and receiving novel medical and surgical treatments, emergency departments are increasingly the venue for associated acute presentations. How can emergency physicians respond to these challenging and emerging conditions?

This book focuses on the unusual and complex disease presentations not covered in detail in the standard textbooks, helping you manage patients with conditions such as congenital heart disease, cystic fibrosis, morbid obesity, intellectual disability and intestinal failure.

Not only does this book provide guidance on evaluation and diagnosis, but it also addresses the practical issues of acute management and continuing referral. The individual chapters are written by high profile emergency physicians, in conjunction with appropriate specialists, and include authoritative evidence to back up the clinical information.
List of contributors, vii
Acknowledgments, xiv
Chapter 1 Introduction, 1
Arvind Venkat
Chapter 2 The post-cardiac arrest patient, 5
Ankur A. Doshi and Clifton W. Callaway
Chapter 3 Adults with congenital heart disease, 26
Kara M. Iskyan and Craig R. Cohen
Chapter 4 The renal transplant patient, 51
Joseph B. Miller and K. K. Venkat
Chapter 5 The end-stage renal disease patient on dialysis, 74
K. K. Venkat and Arvind Venkat
Chapter 6 Adults with cystic fibrosis, 96
Arvind Venkat and Joseph M. Pilewski
Chapter 7 Adults with sickle-cell disease: implications of increasing longevity, 115
Ward Hagar and Claudia R. Morris
Chapter 8 HIV-positive adults on HAART, 141
Arvind Venkat and Sukhjit S. Takhar
Chapter 9 Adults receiving chemotherapeutic regimens, 158
Moira Davenport and Mary Ann Howland
Chapter 10 The bariatric surgery patient, 184
Melissa B. Bagloo and Alfons Pomp
Chapter 11 The obese patient, 204
Andra L. Blomkalns and David W. Silver
Chapter 12 The geriatric trauma patient, 228
John M. O'Neill and Elan Jeremitsky
Chapter 13 Children with intestinal failure and complications from visceral transplant, 251
Melissa A. Vitale, Jeffrey A. Rudolph and Richard A. Saladino
Chapter 14 Family violence, 271
Daniel M. Lindberg and Esther K. Choo
Chapter 15 The intellectually disabled patient, 299
Jonathan S. Anderson and Shamai A. Grossman
Chapter 16 Adults with conditions causing chronic pain, 319
Victoria L. Thornton and Lauren T. Southerland
Index, 342
""In summary, I believe that this is a valuable review of special conditions that have undergone significant change in practice during the past 5 years. Most practicing physicians, especially those who have been out of practice for a longer period, will find that the book will enhance their practice and the care they provide to patients."" (Annals of Emergency Medicine, 1 March 2012)
""There are excellent chapters on epidemiology, emergency department principles and radiology images, all illustrated with diagrams and tables ... I particularly enjoyed the predictions for the next five years, as people live longer with complex, chronic conditions."" (Nursing Standard, 22 February 2012)
""All in all, this is a good book put together by Dr. Arvind Venkat as its editor. A fairly large variety of problems encountered in emergency rooms by doctors are covered in it. If you have had insufficient exposure to such cases in your medical and surgical textbooks, this is the book that can fill the gaps for you."" (Biz India, 6 February 2012)
""When every second matters, bureaucracy needs to be shoved aside. Challenging and Emerging Conditions in Emergency Medicine discusses the important issues that emerge in serious issues that have life and death connotations on the line for it all. As the population ages, and new techniques emerge in medical science, and conditions lead to multiple emergency treatments as people live with heart disease, obesity, and other long term conditions. Discussing evaluation and diagnosis with essays from many long term emergency physicians and more, Challenging and Emerging Conditions in Emergency Medicine is a vital discussion of this very important aspect of modern medicine and the high complexity in this incredibly vital situations."" (Midwest Book Review)
""The specialty of emergency medicine has expanded in many dimensions over the past 50 years. First and most dramatic is simply the magnitude of care that emergency de-partments (EDs) now provide. The volume of patients visiting EDs in the United States has increased to more than 117 million per year (39.4 per 100 population).[Niska R, Bhuiya F, Xu J. National Hospital Ambulatory Medical Care Survey: 2007 emergency department summary. Natl Health Stat Report. 2010;26(26):1-31.] The duration and extent of care provided in EDs are likewise increasing as hospital inpatient capacity is reached and patients in EDs receive prolonged care while awaiting inpatient beds. In addition, the constraints on the health care system continue to increase and the ED, which is always open and will necessarily see all comers, is becoming the portal of entry for a wider spectrum of patients.
The scope of practice in emergency medicine is expanding, with an ever-increasing number of subspecialty fellowships offered and increasingly advanced research and procedures being performed. Simultaneously, medical care has advanced, promoting vastly increased longevity for patients with diseases or congenital disorders that previously would have precluded their survival to adulthood. This increased longevity now leads to ED visits for complications of chronic diseases not seen by prior generations of emergency medicine physicians. Concurrently, with the increase in time patients spend in EDs comes a correlative increase in the duration that these patients are cared for in the ED. Moreover, new disease entities and treatment modalities have emerged, further expanding the breadth of cases presenting to EDs.
Challenging and Emerging Conditions in Emergency Medicine has a stated goal of offering emergency physicians a resource when addressing patients with increased longevity despite chronic or congenital diseases, those receiving novel treatment modalities, and those with complications of social pathologies and lack of medical resources. The book nicely fills a wide gulf between standard textbooks in emergency medicine and the subspecialty literature and focuses on issues critical to the emergency medicine physician who will necessarily care for these patients. Edited by Arvind Venkatand written by notable experts, the book includes a compelling index listing topics that every emergency medicine physician will recognize as new challenges in the field. It is a welcome addition to the emergency medicine armamentarium, an up-to-date resource that deals with topics ranging from those increasingly common but always frightening cases of the adult with congenital heart disease to the all-too-common but exceedingly challenging issues of the obese patient with a medical or traumatic issue.
The structure of the individual chapters allows the opportunity to understand the epidemiology, procedural interventions, and disease presentation and management of each disease process. Each chapter includes a section titled "The Next Five Years" that provides an interesting view into the effects of the disease on the future of emergency medicine practice.
The book is more than complete enough to serve as a general reference yet concise enough to allow it to be used for general reading. It will serve as a superb study guide for emergency medicine residents and provide tremendous opportunity for practicing emergency medicine physicians to update their skill sets. Timely, highly relevant and well written, Challenging and Emerging Conditions in Emergency Medicine should have a place on every emergency medicine physician's reading list."" (Review by Arthur Pancioli, MD. JAMA October 26, 2011—Vol 306, No. 16)
""Patients with severe illness and significant physical and social pathologies that were once perceived as life shortening are now living longer and in some cases, surviving into old age. As a consequence it is likely that patients with conditions that were once a rarity will be seen more frequently in the emergency department (ED) with either complications of their condition or co-morbidities. The need for specialist input with such patients is imperative, but there is also a requirement for ED staff to be familiar with the nature, presentation and progression of these conditions and current treatment strategies in order to meet the immediate needs of patients.
Venkat's book provides an insight into some of the once unusual conditions that are now being seen in EDs, ranging from the more commonplace post-cardiac arrest patient, complications of obesity and those with chronic pain, to the esoteric problems of children with intestinal failure and complications of visceral transplantation. Each chapter gives an overview of the condition and its progression and the complications that might lead the patient to present to the ED, and a review of immediate management and current therapies. The chapters end with an interesting glance into the future, with projections of potential changes in treatment options and patient outcomes over the next 5 years.
The sections are readily digestible with easily accessible text and clear diagrams. Key therapies are presented in tables and lists, with clear referencing to current literature.
All of the contributors are based in the United States (US) and as such much of the data on prevalence and treatment modalities have a US focus. However the unusual range of conditions covered and the guidance on immediate support and therapy make this an interesting and helpful resource for doctors, practitioners and nurses working in any ED."" (Review by Bob McMaster, International Emergency Nursing, September 2011)