Challenging the Stigma of Mental Illness: Lessons for Therapists and Advocates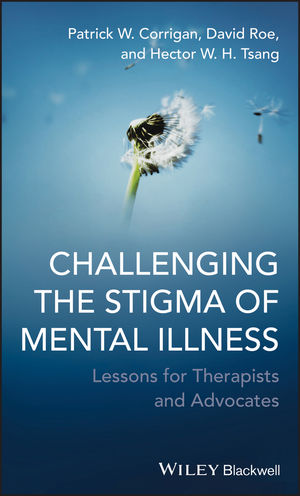 Challenging the Stigma of Mental Illness: Lessons for Therapists and Advocates
ISBN: 978-0-470-68360-6
Feb 2011, Wiley-Blackwell
254 pages
Description
Challenging the Stigma of Mental Illness offers practical strategies for addressing the harmful effects of stigma attached to mental illness. It considers both major forms of stigma: public stigma, which is prejudice and discrimination endorsed by the general population; and self-stigma, the loss of self-esteem and efficacy that occurs when an individual internalizes prejudice and discrimination.  
Invaluable guide for professionals and volunteers working in any capacity to challenge discrimination against mental illness
Contains practical worksheets and intervention guidelines to facilitate the implementation of specific anti-stigma approaches
Authors are highly experienced and respected experts in the field of mental illness stigma research
About the Authors.
Foreword: Robert Lundin.
Preface.
Acknowledgments.
1 Stigma is Personal.
2 Understanding and Measuring Stigma.
3 Challenging the Public Stigma of Mental Illness.
4 Addressing Self-Stigma and Fostering Empowerment.
5 Addressing Structural Stigma.
6 Stigma as Social Injustice.
References.
Learn More About It: Resources and Chapter References (Jennifer D. Rafacz).
Index.
"Overall this is a very inspiring book that demands a response to an important issue which is often overlooked or misunderstood."  (Journal of Mental Health, 1 May 2013)
"In Challenging the Stigma of Mental Illness, Patrick Corrigan and colleagues seek to provide a practically focused text that is grounded in the experience and narratives of those who have struggled with the impact of stigma on their lives.  A particular strength is that it does not shy away from some more difficult areas such as recognising that mental health professionals may be complicit in 'othering' people with mental health difficulties to much the same extent as the general population."  (Oxford Journals Clippings, 4 May 2012)
""Overall, the authors provide thorough coverage of the major aspects of stigma and stigma reduction efforts in an easy-to-use format."" (PsycCRITIQUES, 29 February 2012)
""Overall, I think the intentions of the authors are honourable and the books includes good suggestions on how to tackle the widespread problems of stigma. These range from small tasks that people could carry out in daily life to large changes required at government level."" (The Psychiatrist, 1 December 2011)
""This is a book that would be ideal for an undergraduate health professional program, and could provide a valuable basis for coursework, such as developing an anti-stigma intervention, or simply a class discussion about the reality of stigma."" (Metapsychology Online Reviews, 29 November 2011)
""In this unique text aimed at therapists, those in helping professions, patients, and families in the US and Europe, Corrigan (psychology, Illinois Institute of Technology) et al. outline practical strategies for addressing the major forms of stigma of mental illness: public stigma, prejudice and discrimination endorsed by general society; self-stigma, the loss of self-esteem and efficacy that occurs when a person internalizes prejudice and discrimination; and structural stigmas, the social forces shaped by public stigma . . . some sections of the book were taken from Corrigan and Robert Lundin's Don't Call Me Nuts! Coping with the Stigma of Mental Illness (2001), and this volume updates many of its ideas with recent research."" (Booknews, 1 June 2011)