Championship Selling: A Blueprint for Winning With Today's Customer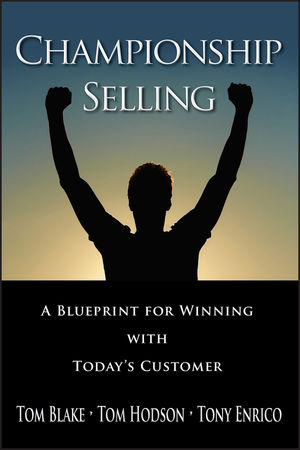 Championship Selling: A Blueprint for Winning With Today's Customer
ISBN: 978-0-470-83675-0 September 2005 264 Pages
Description
If the process of buying and selling makes the world go round, then why does it have such a lousy reputation? Customers are wary of those who come selling, and salespeople have become embarrassed by their roles. Reversing this trend means adopting a new mindset, different processes, and fresh disciplines. In Championship Selling, three of North America's most respected sales leaders offer a powerful, yet remarkably simple, vision of what it means to sell, as well as innovative techniques and tools for establishing mutually productive relationships with customers.

Most selling today is the same as it has always been — transactional. That is, the salesperson tries everything to get a foot in the door, follow their own agenda, close the deal and move on. However, transformational selling focuses on listening to, and working with, the customer to build enduring relationships that are valuable to both parties, and last far beyond the first transaction. Championship Selling portrays sales as a complex, vital, ongoing process, and outlines techniques and exercises to help salespeople, and their companies, evolve from a transactional mentality to a transformational one, for better long-term results.

Praise for Championship Selling

"Every business leader and sales professional will benefit from Championship Selling."
—Jeffrey J. Fox , bestselling author of How to Become a Rainmaker

"Championship Selling provides a comprehensive framework for individuals and entire companies to build lasting value. Read this book if you don't want to be left behind."
—Mike Charette, Vice President Customer Development - Wal-Mart, Johnson & Johnson

"Championship Selling will help you see the customer in a refreshing new light."
—Tom Greco, Senior Vice President Sales, Frito-Lay North America

"Forget books on getting the customer to see it your way. Championship Selling tells you something much more valuable: how to see it the customer's way."
—George Cooke, CEO, Dominion of Canada General Insurance

"The concepts in Championship Selling speak directly to the shift companies need to adopt if they want to position themselves for success in today's environment."
—Steve Fox, Senior Vice President Customer Business Development, Nestlé

"Sales leaders of the future will need to become customer general managers. Championship Selling will get them on the right road – fast."
—Tom Muccio, former President Global Customer Teams, Procter & Gamble

"You'll never look at customers the same way again."
—Tim Boissinot, Executive Vice President, Quebecor

"Championship Selling gives you the tools to create enduring, sustainable value. If you want a leadership edge, this is the book to get."
—Kevin Cashman, CEO, LeaderSource and bestselling author of Leadership from the Inside Out
Acknowledgments.
Introduction.
PART ONE: THE SALES REVOLUTION.
1. Embracing the Shift.
2. Making the Connection.
3. Changing the Focus.
4. Building the Structure.
5. Unleashing the Power.
PART TWO: THE PERFORMANCE PYRAMID.
6. Perspective: Embedding Championship DNA.
7. Playing Catch: The Heart of Championship Selling.
8. Preparation: Developing a Plan for Strategic Customer Management.
9. Cresting the Performance  Pyramid: Process and Presenting.
10. Seizing the Challenge.