Chance Encounters: A First Course in Data Analysis and Inference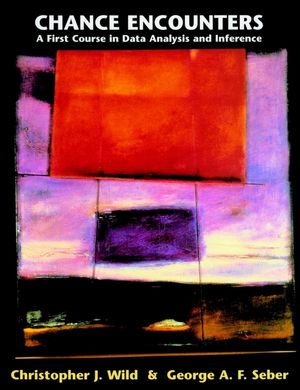 Chance Encounters: A First Course in Data Analysis and Inference
ISBN: 978-0-471-32936-7 November 1999 632 Pages
Description
Text combines lucid and statistically engaging exposition, graphic and poignantly applied examples, realistic exercise settings to take student past the mechanics of introductory-level statistical techniques into the realm of practical data analysis and inference-based problem solving.
Table of contents
What Is Statistics?

Tools for Exploring Univariate Data.

Exploratory Tools for Relationships.

Probabilities and Proportions.

Discrete Random Variables.

Continuous Random Variables.

Sampling Distributions of Estimates.

Confidence Intervals.

Significance Testing: Using Data to Test Hypotheses.

Data on a Continuous Variable.

Tables of Counts.

Relationships between Quantitative Variables: Regression and Correlation.

Control Charts.

Time Series.

Appendices.

References.

Answers to Selected Problems.

Index.
Reviews
"...a superb book....Wild & Seber have now raised the standard of introductory textbooks another notch." (Australian & New Zealand, 2000)
What's New
The text is data-oriented, demonstrates the "exploratory" and "confirmatory" approach to modern exploratory technique applications.
The text is intuitive, expects students to learn the principles of data analysis, probability and inference from working with motivating data sets, realistic and problem-solving oriented exposition and examples, challenging and applied exercises and cases throughout the chapters.
The text is computer-oriented, assumes computers are part of the support apparatus for the introductory course with either available department labs or personal equipment, that, however, many different computational/graphic packages are typical of the teaching and learning terrain in statistics and other departments at colleges and universities around the world.
The text is tools and assumption management and outcome interpretation-motivated in its chapter-by-chapter pedagogy. It wants the learning objectives for the introductory course to include students acquiring an intuitive sense of the uses and limits of sample-based data analysis, probability and inference.