Change Your Thinking, Change Your Life: How to Unlock Your Full Potential for Success and Achievement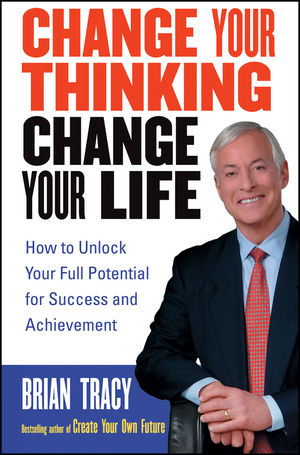 Change Your Thinking, Change Your Life: How to Unlock Your Full Potential for Success and Achievement
ISBN: 978-0-471-73538-0 August 2005 288 Pages
Description
CHANGE YOUR THINKING CHANGE YOUR LIFE
"Every line in this book is bursting with truth, wisdom, and power. Brian Tracy is the preeminent authority on showing you how to dramatically improve your life. Let him be your guide. I've learned so much from Brian myself that I can't thank him enough!"
—Robert G. Allen, #1 New York Times bestselling author
"This book gives you a step-by-step system to transform your thinking about yourself and your potential, enabling you to achieve greater success in every area of your life."
—Lee Iacocca, Chairman, Lee Iacocca & Associates
"Once again, Brian Tracy has written an incredible book which shows individuals how to delve into their inner resources so that they can not only identify realistic goals but develop a plan on how to achieve these goals. This book promises to be a bestseller and to influence the lives of so many. It is must reading."
—Sally Pipes, President, Pacific Research Institute
"Outstanding! Brian Tracy's Change Your Thinking, Change Your Life is a must-read. Use the powerful 'mental software' program in this book to tap your vast inner resources and bring the life you've been dreaming about into reality."
—Ken Blanchard, coauthor of The One Minute Manager and Full Steam Ahead!
"As usual, Brian Tracy has hit another home run with Change Your Thinking, Change Your Life. It's a must-read!"
—Mac Anderson, founder, Successories, Inc.
"Brian's new book, Change Your Thinking, Change Your Life, will show you how to attract the people and resources you need to achieve any goal you set for yourself."
—Tony Jeary, Mr. Presentation, author of Life Is a Series of Presentations
"This is a masterful book laden with wisdom and knowledge. It'll catapult you from intention to implementation. It arms you with the information and insights you need to achieve success and significance in your life."
—Nido R. Qubein, founder, National Speakers Association Foundation Chairman, Great Harvest Bread Company
Table of contents
Acknowledgments.
Introduction.
Chapter 1. Change Your Thinking.
Chapter 2. Change Your Life.
Chapter 3. Dream Big Dreams.
Chapter 4. Decide to Become Rich.
Chapter 5. Take Charge of Your Life.
Chapter 6. Commit to Excellence.
Chapter 7. Put People First.
Chapter 8. Think Like a Genius.
Chapter 9. Unleash Your Mental Powers.
Chapter 10. Supercharge Your Thinking.
Chapter 11. Create Your Own Future.
Chapter 12. Live A Great Life.
Summary and Conclusions.
Bibliography.
Index.
Advanced Coaching and Mentoring Program.
About the Author.