Changes in Decision-Making Capacity in Older Adults: Assessment and Intervention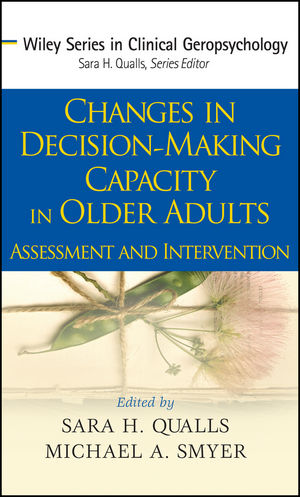 Changes in Decision-Making Capacity in Older Adults: Assessment and Intervention
ISBN: 978-0-470-03798-0 November 2007 368 Pages
Description
Part of the Wiley Series in Clinical Geropsychology, Changes in Decision-Making Capacity in Older Adults: Assessment and Intervention helps to familiarize you with the legal and social contexts for decision making in potentially impaired individuals. Editors Sara Qualls and Michael Smyer have brought together a notable team of international contributors to provide you with a unique framework of the legal, social, and psychological approaches to assessing the ability of older adults to make decisions.
Preface (
Sara Honn Qualls
).
Acknowledgments.
Contributors.
PART I: Aging Effects on Decision-Making Capacity.
1 Aging and Decision-Making Capacity: An Overview (Michael A. Smyer).
2 Cognitive Changes across the Life Span (Shannon M. Foster, R. Elisabeth Cornwell, Michael A. Kisley, and Hasker P. Davis).
3 Medical Factors Affecting Mental Capacity (Kathryn Kaye and Jim Grigsby).
4 Impact of Dementia on Decision-Making Abilities (Stacey Wood and Betty E. Tanius).
PART II: Social and Legal Contexts of Capacity Decisions.
5 Decision-Making Capacity: The Players (Sara Honn Qualls).
6 A Primer for Legal Proceedings (Wayna M. Marshall, Catherine Seal, and Lynn Vanatta-Perry).
7 Culture and Medical Decision Making (Michele J. Karel).
PART III: Clinical Evaluation and Intervention.
8 Clinical Frameworks for Capacity Assessment (Jennifer Moye).
9 The Role of Neuropsychological Assessment in Capacity Evaluations (Stacey Wood).
10 Assessment of Medical Consent Capacity and Independent Living (Jennifer Moye and Michelle Braun).
11 Assessment of Financial Capacity in Older Adults with Dementia (Katina R. Hebert and Daniel C. Marson).
12 Clinical Interventions for Decision Making with Impaired Persons (Sara Honn Qualls).
13 The Business of Geropsychology: Billing and Preparing Legal Reports and Testimony (Kathryn Kaye and Michael Kenny).
Epilogue (Michael A. Smyer).
Author Index.
Subject Index.
""This particular and unique text expands on a conference held to train mental health professionals about assessments and interventions for decision-making capacity. What has emerged is a book that will benefit mental health professionals and clinicians with limited experience in assessing such capacity. Specifically, the content improves understanding of the complex and multidimensional issues within decision-making capacity; describes how to conduct evaluations of individuals with cognitive impairment; details possible interventions that can help maintain an individual's independence; and describes the intersection these evaluations might have within the legal system. Given the myriad issues that may arise in a capacity evaluation, Changes in Decision-Making Capacity in Older Adults: Assessment and Intervention effectively provides general principles and guidelines that will allow health professionals to implement well-constructed assessments and reasonable interventions—to effectively collaborate with families, clinicians, and professionals within the legal system addressing the broad range of questions related to decision-making capacity."" (Journal of American Medical Association, February 18, 2009)