Changing Industrial Relations in Europe, 2nd Edition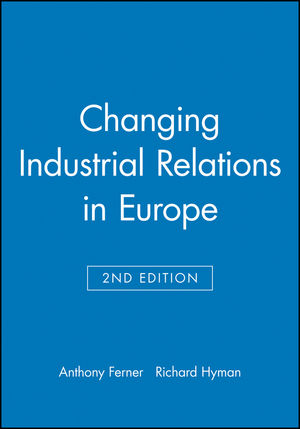 Changing Industrial Relations in Europe, 2nd Edition
ISBN: 978-0-631-20551-7
Apr 1998, Wiley-Blackwell
580 pages
Description
Changing Industrial Relations in Europe is the second edition of the influential and widely used textbook, Industrial Relations in the New Europe. As with the earlier edition, the book will be a definitive text and reference for all students in industrial relations and human resource management looking at international issues.
List of Contributors.
Preface.
Introduction: Towards European Industrial Relations?.
1. Great Britain: From Partial Collectivism to Neo-liberalism to Where?: Paul Edwards (University of Warwick), Mark Hall (University of Warwick), Richard Hyman (University of Warwick), Paul Marginson (University of Leeds), Keith Sisson (University of Warwick), Jeremy Waddington (University of Warwick), and David Winchester (University of Warwick).
2. Ireland: Corporation Revived: Ferdinand von Prondzynski (University of Hull).
3. Sweden: Restoring the Model?: Anders Kjellberg (University of Lund).
4. Norway: The Revival of Centralised Concertation: Jon Erik Dolvik and Torgeir Aarvaag Stokke (Both Institute for Applied Social Science, Oslo).
5. Denmark: A Less Regulated Model: Steen Scheuer (Copenhagen Business School).
6. Finland: Continuity and Modest Moves Towards Company-Level Corporatism: Kari Lilja (Helsinki School of Economics and Business Administration).
7. Germany: Facing New Challenges: Otto Jacobi (Laboratorium Europa), Berndt Keller (University of Konstanz), and Walther Muller-Jentsch (Ruhr University of Bochum).
8. Austria: Still the Country of Corporatism: Franz Traxler (University of Vienna).
9. Switzerland: Still as Smooth as Clockwork?: Robert Flunder and Beat Hotz-Hart (Both University of Zurich).
10. The Netherlands: The Return of Responsive Corporatism: Jelle Visser (University of Amsterdam and Max Planck Institute for the Study of Societies, Cologne).
11. Belgium: The Great Transformation: Jacques Vilrokx and Jim Van Leemput (Both Vrije Universiteit Brussel).
12. Luxembourg: A Small Success Story: Gary Tunsch (Ministry of Labour and National Conciliation Office, Luxembourg).
13. France: The Limits of Reform: Janine Goetschy (Univérsité de Paris-Nanterre).
14. Portugal: Industrial Relations under Democracy: Jose Barreto (University of Lisbon) and Reinhard Naumann (freelance researcher).
15. Spain: Regulating Employment and Social Fragmentation: Miguel Martinez Lucio (University of Leeds).
16. Italy: The Dual Character of Industrial Relations: Ida Regalia (University of Turin) and Marino Regini (University of Milan).
17. Greece: The Maturing of the System: Nicos Kritsantonis.
Index.


Comprehensive coverage of industrial relations, addressing comparable theories.


Country chapters written by international experts.


Sharp focus on explaining trends and developments rather than merely describing.


All chapters thoroughly updated and in many cases completely rewritten.