Changing Outcomes in Psychosis: Collaborative Cases from Practitioners, Users and Carers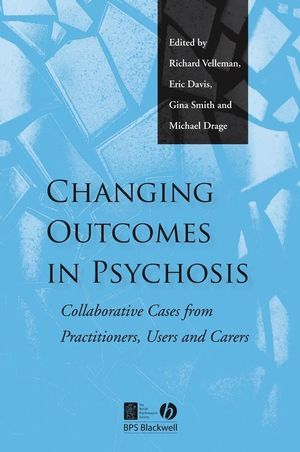 Changing Outcomes in Psychosis: Collaborative Cases from Practitioners, Users and Carers
ISBN: 978-1-405-12641-0 January 2007 Wiley-Blackwell 288 Pages
Description
This book presents a series of cases of psychosocial interventions with schizophrenia and other serious mental health difficulties.






Co-authored by a range of professionals in different roles, as well as carers and service users.





Captures the benefits of a true alliance between the service user and their clinical worker.





Details the skills and knowledge needed for interventions in a range of settings, including outreach work and family work, treatment on acute wards, as well as organisational change.





Introductions and conclusions to each case examine the implications for practice and policy.
Notes on Contributors.
Foreword: Lu Duhig, Laurie Bryant and Professor Antony Sheehan.
Preface: Richard Velleman, Gina Smith, Michael Drage and Eric Davis.
1 Psychosocial Developments: Towards a Model of Recovery: Eric Davis, Richard Velleman, Gina Smith and Michael Drage.
2 Shared Caring for a First Episode of Psychosis: An Opportunity to Promote Hope and Recovery: Mandy Reed and Caroline Stevens.
3 Integrating Family and Individual Approaches with People Who Experience Bipolar Disorder: Annie Higgs and Roger Thompson.
4 Positive Risk-taking within Family Intervention: Gina Smith, Alison Drage, Emily Drage, James Drage and Michael Drage.
5 Assertive Outreach and Family Work: Frank Burbach, John Carter, Jane Carter and Matthew Carter.
6 Relapse Prevention in Bipolar Disorder with Staff Who Are also Service Users: Eric Davis, Guy Undrill and Lauren Samuels.
7 Women's Experiences of Psychosis: Recognition of Gendered Difference: Vicky MacDougall, Karen Luckett and Megan Jones.
8 Advance Agreements, Advanced Directives and Pre-emptive Care-planning: Steve Brooks, Jo Denney and John Mikeson.
9 Recovery from Voice-hearing through Groupwork: Keith Coupland and Tim Cuss.
10 Recovery through Sports in First-episode Psychosis: Sean Adams, Lydia Bishop and Jane Bellinger.
11 Employment, Mental Health and PSI: Occupation is Everyone's Job: Sarah-joy Boldison, Rosie Davies, Hilary Hawkes, Christine Pacé and Ruth Sayers.
12 Using Effective Management Strategies to Facilitate the Delivery of PSI: Debbie Furniss and Eric Davis.
13 Carer–Practitioner Collaboration in Research and Evaluation: Willm Mistral, Michael Drage, Gina Smith, Siobhan Floyd and Nicola Cocks.
14 Changing Practice: Gina Smith, Michael Drage, Eric Davis and Richard Velleman.
Author Index.
Subject Index





Presents a series of cases of psychosocial interventions with schizophrenia and other serious mental health difficulties





Co-authored by a range of professionals in different roles, as well as carers and service users





Captures the benefits of a true alliance between the service user and their clinical worker





Details the skills and knowledge needed for interventions in a range of settings, including outreach work and family work, treatment on acute wards, as well as organisational change





Introductions and conclusions to each case examine the implications for practice and policy