Changing Party Policy in Britain: An Introduction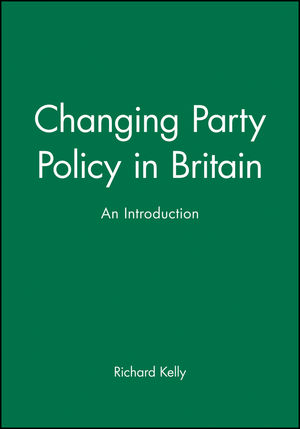 Changing Party Policy in Britain: An Introduction
ISBN: 978-0-631-20490-9
Feb 1999
274 pages
Description
This book provides students and general readers with a crucial analysis of Britain's shifting party dilemmas at a time of blurred voter loyalty, policy convergence between the main parties and increased pressure group activity.
List of Tables.
Preface and Acknowledgements.
Party Activity and the Making of Party Policy: An Overview: Richard Kelly.
1. Economic and Industrial Policy: Steven Fielding and Jonathan Tonge.
2. Europe and Foreign Affairs: Fergus Carr.
3. Health, Education and Social Security: Brian Lund.
4. Law, Order and Civil Liberties: Steven Foster.
5. Racial Equality: Shamit Saggar.
6. Sex Equality: Ian Forbes.
7. Northern Ireland: Michael Cunningham.
8. Local Government and Devolution: Howard Elcock.
9. Parliament and the Civil Service: Robert Pyper.
10. Environmental Policy: Robert Garner.
Conclusion.
Guide to Further Reading.
Appendices.
Index.
"A most valuable collection of essays with useful chronologies and bibliographies." H. Steck, SUNY College at Cortland
* Provides a clear summary of recent research into British political parties in the key policy areas.
* It is user-friendly with each chapter divided into four clear sections so readers can easily digest and compare the chapters' findings.
* Takes full account of the last general election and the party conference season of 1997.
* Richard Kelly teaches at both FE and HE levels and the book is designed for the needs of these students.