Changing People's Lives While Transforming Your Own: Paths to Social Justice and Global Human Rights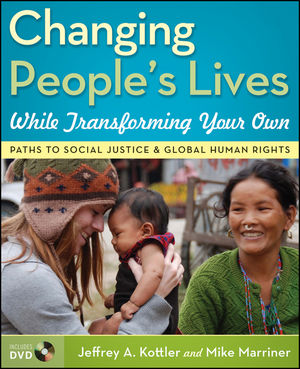 Changing People's Lives While Transforming Your Own: Paths to Social Justice and Global Human Rights
ISBN: 978-0-470-48495-1 January 2009 264 Pages
Description
By supporting others and promoting change, helping professionals also enjoy the benefit of personal growth. Changing People's Lives While Transforming Your Own is filled with narratives from individuals from social work, psychology, counseling, and allied health fields. Inspiring and stirring, this book vividly illustrates how to promote social justice and foster global human rights. Its accompanying DVD features stories from a social justice mission to Nepal reaching out to neglected children. Students and professionals will find this book a profound reminder of how targeted social justice efforts have resulted in transformative experiences.

Note: CD-ROM/DVD and other supplementary materials are not included as part of eBook file.
Acknowledgments.
Preface.
PART I: BIRTH OF A MOVEMENT.
CHAPTER 1: Paths to Social Justice.
CHAPTER 2: The Dance of Hope.
CHAPTER 3: Children Disappearing.
CHAPTER 4: Stories of Despair and Resilience.
PART II: STORIES OF IMPACT.
CHAPTER 5: Road Trip.
CHAPTER 6: Being Lost.
CHAPTER 7: Student Transformations.
CHAPTER 8: Making Universal Connections.
CHAPTER 9: Lessons and Major Themes.
PART III: TAKING ACTION.
CHAPTER 10: Relationship Skills for Promoting Constructive Action.
CHAPTER 11: Travel That Can Change Your Life.
CHAPTER 12: International Jetsetters.
CHAPTER 13: Local Community Activists.
CHAPTER 14: Thinking Globally, Acting Locally.
CHAPTER 15: Going Small.
References and Resources.
About the Authors.
About the DVD.
"…a small easy-to read volume. They write in a very informal way, designed to encourage people to get out there and do something to help others as a means to find their own passion. This is a book that might be useful for a course in service learning because there are sections that discuss topics such as helping skills, especially listening and altruism, and there are scholarly references to other material." (PsycCRITIQUES, November 11, 2009)