Changing Values in Medical and Healthcare Decision-Making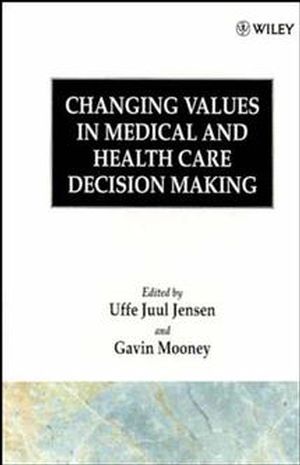 Changing Values in Medical and Healthcare Decision-Making
ISBN: 978-0-471-92634-4
Jan 1991
206 pages
Description
This work charts the progress of changing values in medical and healthcare decision-making, particularly as a result of economic pressures, and the role of clinical ethics in determining what courses of action and treatment medical and healthcare professionals should pursue. It evaluates the concepts involved in ethical decision-making, such as risk and need, and whose values are relevant to which decisions and looks at the changing emphasis of medicine and the relevance of value judgments in clinical decisions. This stimulating work incorporates a number of different perspectives, disciplines, cultures and nationalities to provide a multi-disciplinary, international approach. In addition to medical and economic issues, the book also discusses philosophical and legal aspects.
Changing Values: Autonomy and Paternalism in Medicine and Healthcare.

Commodities, Needs and Healthcare: A Communal Perspective.

Changing Concepts of Medical Ethics.

The Place of Values in Healthcare: Recurring Themes in the Philosophy of Medicine.

Building Networks: A Constructivist Perspective on Changes in Medicine and Healthcare.

Medical Decision Analysis and the Coming Moral Crisis in Healthcare.

Social Change and the Perception of Risks in Medical Practice.

Healthcare Needs, Values and Change.

How Changed Values Influence Evaluative Concept.

Changing Clinical Practice: A Case Study in Breast Cancer.

Retrenchment and Values in a Health Organization.

Hungarian Healthcare: A Challenge to Medical Values?.

Medical Malpractice Phenomena: Signals for Changing Medical and Healthcare Values.

Resource Allocation in Healthcare: The Role of the Courts.

Changing Values and Changing Practice.