Changing the U.S. Health Care System: Key Issues in Health Services Policy and Management, 2nd Edition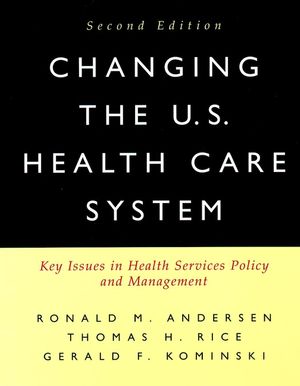 Changing the U.S. Health Care System: Key Issues in Health Services Policy and Management, 2nd Edition
ISBN: 978-0-787-96004-9 February 2002 Jossey-Bass 608 Pages
Description
Explore in-depth the possibilities for public health and policy reform. The second edition of Changing the U.S. Health Care System is a thoroughly revised and updated compendium of the most current thought on three key components of health care policy-improving access, controlling costs, and ensuring quality. Written by a stellar panel of experts in the field of health care policy, this second edition highlights the most recent research relevant to health policy issues. This valuable resource also includes analyses of current health care policy challenges and presents a wide-range of viable solutions. In addition, the book contains an overview of the opportunities in the growing fields of public health and health policy.
Foreword.
Introduction and Overview (R. Andersen, et al.).
ACCESS TO HEALTH CARE.
Improving Access to Care in America: Individual and Contextual Indicators (R. Andersen & P. Davidson).
Public Policies to Extend Health Care Coverage (E. Brown).
COSTS OF HEALTH CARE.
Measuring Health Care Costs and Trends (T. Rice).
Containing Health Care Costs (T. Rice & G. Kominski).
Pharmaceutical Prices and Expenditures (S. Schweitzer & W. Comanor).
QUALITY OF HEALTH CARE.
Measuring Outcomes and Health-Related Quality of Life (P. Ganz & M. Litwin).
Evaluating the Quality of Care (E. McGlynn & R. Brook).
Public Release of Information on Quality (E. McGlynn & J. Adams).
SPECIAL POPULATIONS.
Long-Term Care and the Elderly Population (S. Wallace, et al.).
AIDS in the Twenty-First Century: Challenges for Health Services and Public Health (D. Mosen, et al.).
Health Reform for Children and Families (N. Halfon, et al.).
Mental Health Services and Policy Issues (S. Ettner).
Women's Health: Key Issues in Access to Insurance Coverage and to Services Among Nonelderly Women (R. Wyn & B. Solis).
Homeless Persons (L. Gelberg & L. Arangua).
DIRECTIONS FOR CHANGE.
Managed Care and the Growth of Competition (G. Kominski & G. Melnick).
Medicare Reform (J. Black & G. Kominski).
The Role of Prevention (C. Lewis)
Public Health and Personal Health Services (L. Breslow & J. Fielding).
The Continuing Issue of Medical Malpractice Liability (R. Roemer).
Ethical Issues in Public Health and Health Services (P. Rosenau & R. Roemer).
"The authoritative book on the U.S. health care system. Any student, scholar, executive, or policymaker who wants to understand a particular phenomenon should consult it." —Deborah A. Freund, vice chancellor and provost, professor of public administration, Syracuse University
"Under one cover can be found the basic data and research relevant to virtually all important health policy issues, as well sophisticated analytic material on current problems and their range of possible solutions." —Steven A. Schroeder, M.D., president and CEO, The Robert Wood Johnson Foundation
"The first edition was exceptionally successful with our MPH and MHA introductory course on the U.S. delivery system. The second edition promises to be better yet." —James C. Romeis, professor of health services research, department of community and family medicine, Saint Louis University
"We all know the problems of our health care system, but we know far less about how to solve them. True to its title, Changing the U.S. Health Care System steps into this void, offering comprehensive information and policy alternatives for addressing these complex problems." —David Grembowski, professor, department of health services, University of Washington
"As in the earlier edition, this book provides the reader with a remarkably comprehensive assessment of the key contemporary policy and management issues facing America's health care system. A wonderful map to guide readers through the challenges and complexities of our health care system." —Howard S. Zukerman, director, Center for Health Management Research professor, department of health services, School of Public Health and Community Medicine, University of Washington
"This superb book provides a thorough and authoritative overview of the complex US healthcare system." (Divine Inc (formerly Doody's publishing), July 2002)