Changing the U.S. Health Care System: Key Issues in Health Services Policy and Management, 4th Edition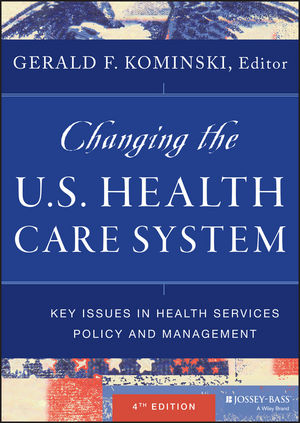 Changing the U.S. Health Care System: Key Issues in Health Services Policy and Management, 4th Edition
ISBN: 978-1-118-41890-1 November 2013 Jossey-Bass 846 Pages
Description
The Fourth Edition of Changing the U.S. Health Care System addresses the key topics in health care policy and management, presenting evidence-based views of current issues. Each chapter is written by an expert in the field who integrates evidence to explain the current condition and presents support for needed change. The book examines all the levers in the setting and implementation of health policy, and includes extensive coverage of impact of the Affordable Care Act, particularly on Medicare, Medicaid, and large and small group insurance markets. Also new to this edition is expanded coverage of nursing, disease management, mental health, women's health, children's health, and care for the homeless.
Figures and Tables xv
Foreword to the Third Edition xix
Foreword to the Fourth Edition xxi
The Editor xxv
The Authors xxvii
Introduction and Overview xliii
Acknowledgments lvii
PART ONE: ACCESS TO HEALTH CARE 1
1 The Patient Protection and Affordable Care Act of 2010 3
Gerald F. Kominski
Learning Objectives 3
Events Leading to the Enactment of the ACA 4
Major Provisions of the ACA 7
Future Directions 20
Summary 25
Key Terms 26
Discussion Questions 28
2 Improving Access to Care 33
Ronald M. Andersen, Pamela L. Davidson, Sebastian E. Baumeister
Learning Objectives 33
Understanding Access to Health Care 34
Future Directions 60
Summary 63
Key Terms 63
Discussion Questions 64
3 Racial and Ethnic Disparities in Health Status 71
Antronette K. Yancey, Roshan Bastani, Beth A. Glenn
Learning Objectives 71
Epidemiology of Health Disparities 73
Factors Underlying Chronic Disease-Related Disparities 82
Future Directions 92
Summary 94
Key Terms 94
Discussion Questions 95
4 Racial and Ethnic Disparities in Health Care 103
Arturo Vargas Bustamante, Leo S. Morales, Alexander N. Ortega
Learning Objectives 103
Definition of Disparity in Health Care 105
Historical Overview of Disparities in Medical Care 109
Scientific Evidence of Disparities in Health Care 115
Future Directions 122
Summary 125
Key Terms 126
Discussion Questions 126
5 Multilevel Social Determinants of Health 135
Ninez A. Ponce, Michelle Ko
Learning Objectives 135
Policy Frameworks for Social Determinants of Health 137
Mechanisms by Which Social Context Affects Health Care 142
Future Directions 147
Summary 148
Key Terms 149
Discussion Questions 150
6 Public Health Insurance 157
Shana Alex Lavarreda, E. Richard Brown
Learning Objectives 157
Medicare, Medicaid, and CHIP 159
Who is Left Out of Public Coverage? 169
Enactment of the Affordable Care Act of 2010: A Political Success Story 179
Future Directions 183
Summary 183
Key Terms 184
Discussion Questions 185
7 Private Health Insurance 191
Nadereh Pourat, Gerald F. Kominski
Learning Objectives 191
Evolution of Private Health Insurance 192
Concepts in Private Health Insurance 194
Employment-Based Health Insurance 200
Individually Purchased Health Insurance 207
Significant Trends in Private Health Insurance 208
Future Directions 213
Summary 216
Key Terms 216
Discussion Questions 218
PART TWO: COST OF HEALTH CARE 223
8 Measuring Health Care Expenditures and Trends 225
Thomas H. Rice
Learning Objectives 225
Measuring Health Care Expenditures 226
Trends in Health Care Expenditures 233
Future Directions 239
Summary 239
Key Terms 242
Discussion Questions 243
9 Containing Health Care Costs 245
Thomas H. Rice, Gerald F. Kominski
Learning Objectives 245
Framework 246
Future Directions 263
Summary 264
Key Terms 264
Discussion Questions 265
10 Promoting Pharmaceutical Access While Controlling Prices and Expenditures 269
Stuart O. Schweitzer, William S. Comanor
Learning Objectives 269
The Problem of Drug Expenditures 271
Interpreting Pharmaceutical Price Data 275
International Price Comparisons 279
Determining Drug Prices 281
Approaches for Containing Pharmaceutical Costs 289
The Link Between Pharmaceutical Expenditures and Research 293
Recent Events Surrounding Pharmaceutical Costs and Access 294
Future Directions 298
Summary 298
Note 299
Key Terms 299
Discussion Questions 300
PART THREE: QUALITY OF HEALTH CARE 305
11 Measuring Health-Related Quality of Life and Other Outcomes 307
Patricia A. Ganz, Ron D. Hays, Robert M. Kaplan, Mark S. Litwin
Learning Objectives 307
Definition, Conceptualization, and Measurement of Quality of Life 310
Contributions From the Literature 318
Comparative Effectiveness Research 328
Future Directions 331
Summary 332
Key Terms 333
Discussion Questions 334
12 Evaluating the Quality of Care 343
Elizabeth A. McGlynn
Learning Objectives 343
The Multiple Dimensions of Quality 344
Criteria for Evaluating Quality Measures 345
A Conceptual Framework for Quality Assessment 347
Structure 348
Process 355
Outcomes 365
Future Directions 371
Summary 372
Key Terms 373
Discussion Questions 374
13 Public Release of Information on Quality 381
Elizabeth A. McGlynn, John L. Adams
Learning Objectives 381
Public Information on Quality 383
Some Methodological Issues in Performance Reporting 391
What is Known About the Impact of Public Reporting? 402
Future Directions 406
Summary 406
Key Terms 407
Discussion Questions 408
14 Health Care Information Systems 413
Jeff Luck, Leah J. Vriesman, Paul Fu Jr.
Learning Objectives 413
Information Systems and Informatics 414
Benefits, Implementation Barriers, and Federal Policy Responses 414
Applications of Information Systems by Health Care Providers 417
Public Health Informatics 434
Applications of Information Systems by Health Plans and Payers 438
Future Directions 441
Summary 445
Key Terms 445
Discussion Questions 446
15 Performance Measurement of Nursing Care 455
Jack Needleman, Ellen T. Kurtzman, Kenneth W. Kizer
Learning Objectives 455
Why Measure Nursing Performance? 455
The Scope of Nursing's Contribution to Inpatient Hospital Care 457
Issues in Constructing Nursing-Sensitive Performance Measures 461
Measuring Nursing Performance 463
Measuring Nursing Performance: The State of the Science 478
Future Directions 485
Summary 486
Key Terms 487
Discussion Questions 487
PART FOUR: SPECIAL POPULATIONS 493
16 Long-Term Services and Supports for the Elderly Population 495
Steven P. Wallace, Nadereh Pourat, Linda Delp, Kathryn G. Kietzman
Learning Objectives 495
Institutional Care 497
Community-Based Services 502
Informal Care 507
Workers in the Long-Term Care System 509
Future Directions 516
Summary 517
Note 517
Key Terms 517
Discussion Questions 518
17 HIV and AIDS in the Twenty-First Century 523
Erin G. Grinshteyn, William E. Cunningham
Learning Objectives 523
The Changing Epidemiology and Clinical Treatment of HIV/AIDS 525
Prevention and Education 538
Policy Implications and Research Needs for Management, Planning, and AIDS Policy 543
Future Directions 546
Summary 547
Key Terms 548
Discussion Questions 550
18 Children's Health 559
Moira Inkelas, Neal Halfon, David Lee Wood
Learning Objectives 559
Special Health Needs of Children 561
Health Service Delivery for U.S. Children 564
Financing Children's Health Care 569
Improving the Child Health System 576
Future Directions 585
Summary 585
Key Terms 586
Discussion Questions 587
19 Homeless Persons 593
Lisa Arangua, Lillian Gelberg
Learning Objectives 593
A Profile of the Homeless 594
Health Status 597
Mental Illness and Substance Abuse 604
Use of Physical Health Services 606
Use of Mental Health and Substance Abuse Services 608
Barriers to Health Care 609
Future Directions 610
Summary 612
Key Terms 612
Discussion Questions 613
PART FIVE: DIRECTIONS FOR CHANGE 621
20 Changing the Health Care Delivery System 623
Nadereh Pourat, Hector P. Rodriguez
Learning Objectives 623
Conceptual Framework: Intervention and Innovations to Correct System Failures 625
Future Directions 641
Summary 642
Key Terms 642
Discussion Questions 644
21 Medicare Reform 651
Gerald F. Kominski, Jeanne T. Black, Thomas H. Rice
Learning Objectives 651
Origin and Philosophy of Medicare 652
Evolution of Medicare 656
Is Medicare Facing a Crisis? 663
Future Directions 670
Summary 673
Key Terms 674
Discussion Questions 675
22 Public Health and Clinical Care 681
Jonathan E. Fielding, Lester Breslow, Steven M. Teutsch
Learning Objectives 681
Public Health's Mission and Scope 682
Prevention In Clinical Care Services 685
Public Health and Provision of Clinical Care Services 689
Direct Medical Service Delivery by Government 691
Future Directions 692
Summary 699
Key Terms 700
Discussion Questions 700
23 Strengthening the Safety Net 703
Dylan H. Roby
Learning Objectives 703
Defining the Safety Net 704
Ensuring Access to Care for the Poor, Uninsured, and Underserved 705
Financing the Safety Net 706
Size and Scope of the Safety Net 707
Reducing Costs 715
Improving Quality 716
Future Directions 719
Summary 719
Key Terms 720
Discussion Questions 721
24 Ethical Issues in Public Health and Health Services 727
Pauline Vaillancourt Rosenau, Ruth Roemer, Frederick J. Zimmerman
Learning Objectives 727
Overarching Public Health Principles: Our Assumptions 730
Ethical Issues in the Allocation of Resources 730
Ethical Issues in Research 737
Ethical Issues in Economic Support 738
Ethical Issues in Management of Health Services 740
Ethical Issues in Delivery of Care 741
Future Directions 744
Summary 745
Key Terms 746
Discussion Questions 747
Index 753