Character Building Activities for Kids: Ready-to-Use Character Education Lessons and Activities for the Elementary Grades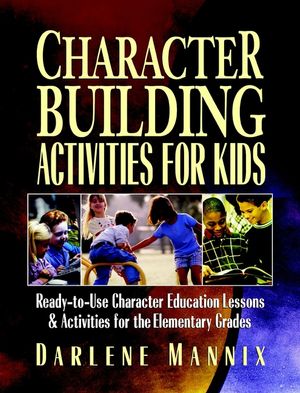 Character Building Activities for Kids: Ready-to-Use Character Education Lessons and Activities for the Elementary Grades
ISBN: 978-0-130-42585-0
Dec 2001, Jossey-Bass
400 pages
Product not available for purchase
Description
This straight-forward resource gives teachers, counselors, and parents over 140 common-sense lessons with reproducible activities for developing traits selected as representative of good character, such as honesty, generosity and fairness. This guide is organized into three sections focusing on respect for self, respect for others, and a positive outlook on life. Each lesson defines a specific character trait, shows children how to recognize the trait, and provides opportunities for children to apply the trait in their own daily lives.
About This Book.

How To Use This Book.

Section I: Having Respect for Yourself.

Part 1: Honesty.

Part 2: Promise-Keeping.

Part 3: Humility.

Part 4: Responsibility.

Part 5: Best Effort.

Part 6: Personal Health.

Section II: Having Respect for Others.

Part 7: Peace-Seeking.

Part 8: Generosity.

Part 9: Compassion.

Part 10: Forgiving.

Part 11: Understanding Others (Another's Point of View).

Part 12: Loyalty.

Section III: Having a Positive Outlook.

Part 13: Sense of Humor.

Part 14: Fairness.

Part 15: Open-Minded.

Part 16: Initiative.

Part 17: Optimistic.

Part 18: Risk-Taking.