Characterization, Design, and Processing of Nanosize Powders and Nanostructured Materials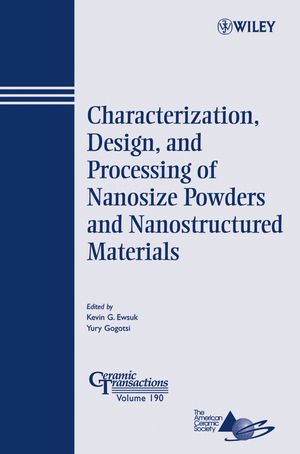 Characterization, Design, and Processing of Nanosize Powders and Nanostructured Materials
ISBN: 978-0-470-08033-7
Jun 2006
248 pages
Description
Provides an organized and carefully selected collection of current research papers from two recent symposia, including The Characterization and Processing of Nanosize Powders and Particles and Nanoscale and Multifunctional Materials symposia both held at the 6th Pacific Rim Conference on Ceramic and Glass Technology in Fall 2005. The topics covered include techniques to characterize nanosize powders and nanoparticle dispersions, green processing of nanopowders, and the sintering and microstructure of nanoparticle assemblies.
Buy Both and Save 25%!
Original Price:$329.00
Purchased together:$246.75
save $82.25
Cannot be combined with any other offers.
Preface ix
Synthesis
Synthesis of High Purity ß-SiAION Nanopowder From a Zeolite by Gas-Reduction-Nitridation 3
Tomohiro Yamakawa, Tom Wakihara, Junichi Tatami, Katsutoshi Komeya, and Takeshi Meguro
Electrospinning of Ceramic Nanofibers and Nanofiber Composites 9
Junhan Yuh, Hyun Park, and Wolfgang M. Sigmund
Melt Synthesis and Characterization of (A1-xA'x)(B1-yB'y)03 Complexed Oxide Perovskites 21
Tadashi Ishigaki, Kazumasa Seki, Shunji Araki, Naonori Sakamoto, Tomoaki Watanabe, and Masahiro Yoshimura
Carbon Derived Si3N4+SiC Micro/Nano Composite 29
Jan Dusza, Monika Kasiarova, Alexandra Vysocka, Jana Spakova, Miroslav Hnatko, and Pavol Sajgalik
Dispersion
Modification of Nanosize Silica Particle Surfaces to Improve Dispersion in a Polymer Matrix 39
Chika Takai, Masayoshi Fuji, and Minoru Takahashi
Possibility of Comb-Graft Copolymers as Dispersants for SiC Suspensions in Ethanol 47
Toshio Kakui, Mitsuru Ishii, and Hidehiro Kamiya
Dispersion Control and Microstructure Design of Nanoparticles by Using Microbial Derived Surfacant 61
Hidehiro Kamiya, Yuichi tida, Kenjiro Gomi, Yuichi Yonemochi, Shigekazu Kobiyama, Motoyuki lijima, and Mayumi Tsukada
Forming
Analysis of Consolidation Behavior of 68 nm-Yttha-Stabilized Zirconia Particles During Pressure Filtration 73
Yoshihiro Hirata and Yosuke Tanaka
Colloidal Processing and Sintering of Nano-Zr02 Powders Using Polyethylenimine (PEI) 85
Yuji Hotta, Cihangir Duran, Kimiyasu Sato, and Koji Watari
Importance of Primary Powder Selection in Aerosol Deposition of Aluminum Nitride 95
Atsushi Iwata and Jun Akedo
Preparation of 3D Colloidal Sphere Arrays Using Barium Titanate Fine Particles and Their Dielectric Properties 105
Satoshi Wada, Hiroaki Yasuno, Aki Yazawa, Takuya Hoshina, Hirofumi Kakemoto, and Takaaki Tsurumi
Sintering and Properties
Sintering and Mechanical Properties of SiC Using Nanometer-Size Powder 117
Nobuhiro Hidaka and Yoshihiro Hirata
Mechanical Properties of Ce-Doped Zirconia Ceramics Sintered at Low Temperature 129
Michihito Muroi and Geoff Trotter
Using Master Curve Model on the Sintering of Nanocrystalline Titania 141
Mao-Hua Teng and Mong-Hsia Chen
Mechanical Properties and Hardness of Advanced Superhard Nanocrystalline Films and Nanomaterials 151
Murli H. Manghnani, Pavel V. Zinin, Sergey N. Tkachev, Pavla Karvankova, and Stan Veprek
Nanocomposites and Nanostructures
Initial Investigation of Nano-TiC/Ni and TiC/NigAI Cermets for SOFC Interconnect Applications 163
Hua Xie and Rasit Koc
Intra-Type Nanocomposites for Strengthened and Toughened Ceramic Materials 173
Seong-min Choi, Sawao Honda, Shinobu Hashimoto, and Hideo Awaji
Periodic Nanovoid Structure in Glass Via Femtosecond Laser Irradiation 181
Shingo Kanehira, Koji Fujita, Kazuyuki Hirao, Jinhai Si, and Jianrong Qiu
Materials Properties of Nano-Sized FeAIN Particles in Thin Films 191
Yuandan Liu, R.E. Miller, Dingqiang Li, Qiquan Feng, W. Votava, Tao Zhang, L.N. Dunkleberger, X.W. Wang, R. Gray, T. Bibens, J. Heifer, K. Mooney, R. Nowak, and P. Lubitz
Preparation and Properties of Mullite-Based Iron Multi-Functional Nanocomposites 203
Hao Wang, Weimin Wang, Zhengyi Fu, Tohru Sekino, and Koichi Niihara
Design of Nanohybrid Materials With Dual Functions 213
Jin-Ho Choy
Single-Crystal SiC Nanotubes: Molecular-Dynamic Modeling of Structure and Thermal Behavior 227
V.L. Bekenev, V.V. Kartuzov, and Y. Gogotsi
Vibrational Spectrum of a Diamond-Like Film on SiC Substrate 233
V. Shevchenko, Y. Gogotsi, and E. Kartuzov
Author Index 237