Characterization and Modeling to Control Sintered Ceramic Microstructures and Properties: Proceedings of the 106th Annual Meeting of The American Ceramic Society, Indianapolis, Indiana, USA 2004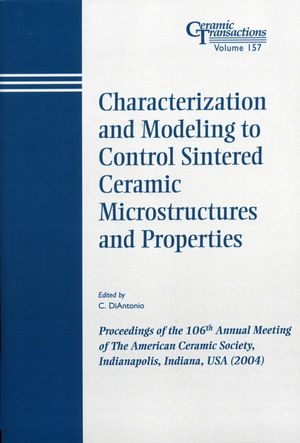 Characterization and Modeling to Control Sintered Ceramic Microstructures and Properties: Proceedings of the 106th Annual Meeting of The American Ceramic Society, Indianapolis, Indiana, USA 2004
ISBN: 978-1-574-98178-0 May 2005 128 Pages
Description
These proceedings are designed to provide a forum that integrates research in characterization and modeling to advance the science of ceramic/composite sintering. Densification, shape deformation, and microstructure evolution during sintering is addressed.
Characterizing and Modeling Sintering (densification, shape deformation and microstructure).
Characterizing Materials' Constitutive Behavior During Sintering.

Engineering Ceramic Processes and Microstructures.

Microstructure and Properties.