Charitable Giving 2015 Supplement, 5th Edition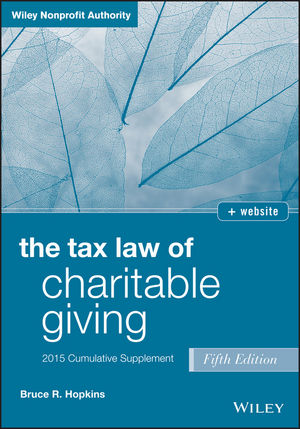 Charitable Giving 2015 Supplement, 5th Edition
ISBN: 978-1-118-87400-4 August 2015 144 Pages
Description
The definitive, accessible reference on charitable giving tax law
Charitable Giving 5th Edition is the leading guide to the law, rules, and regulations governing charitable giving, completely revised, revamped, and updated to align with the latest developments in the industry. Written by Bruce R. Hopkins, the most respected name in the field, this book provides plain-English explanations and in-depth coverage, complete with detailed documentation, citations, and references. This updated edition contains new information on many aspects of giving law, including the extensive litigation concerning gifts of conservation easements and updates on the several special rules for unique types of giving, as well as updates on federal estate tax law, and case law on substantiation and appraisal requirements. Reader will find a summary of recent developments concerning recordkeeping, donor-advised funds, and much more. The companion website provides tables, appendices, IRS guidelines, and other related documents to help readers get organized and remain compliant amidst the rapid changes.
Charitable giving law is constantly evolving, and remaining compliant can feel like trying to hit a moving target. This book is designed to keep lawyers, managers, and development directors in tax-exempt organizations up to date on the relevant regulations, with a deep understanding of how the regulations are actually applied.
Understand the federal tax laws surrounding charitable giving
Learn how recent legislation impacts specific taxes and documentation
Examine the new regulations proposed by the Department of Treasury
Gain access to tools that help ensure compliance
More than a simple codification reference, this book provides explanation and interpretation from one of the foremost minds in the field. For those needing a charitable giving guide, Charitable Giving 5th Edition is a comprehensive, authoritative examination, and widely recognized as a classic reference.
Preface vii
About the Author ix
Book Citation xi
PART ONE INTRODUCTION TO THE TAX LAW OF CHARITABLE GIVING 1
Chapter One Charitable Giving Law: Basic Concepts 3
§ 1.4 Statistical Profile of Charitable Sector 3
Chapter Two The United States Tax System: An Overview 5
§ 2.6 Standard Deduction 6
§ 2.7 Concept of Taxable Income 6
PART TWO BASICS OF CHARITABLE GIVING LAW 7
Chapter Three Fundamental Concepts 9
§ 3.1 Meaning of Gift 9
§ 3.2 Meaning of Donor 10
§ 3.6 Factors Affecting Income Tax Deductibility of Charitable Gifts 10
PART THREE CHARITABLE GIVING IN GENERAL 11
Chapter Six Timing of Charitable Deductions 13
§ 6.15 Gifts by S Corporations 13
Chapter Seven Percentage Limitations 15
§ 7.12A Qualified Conservation Contributions 15
§ 7.12B Conservation Gifts by Farmers and Ranchers 16
Chapter Eight Estate and Gift Tax Considerations 19
§ 8.2 Federal Gift Tax 19
Chapter Nine Special Gift Situations 21
§ 9.3 Inventory 21
§ 9.7 Conservation Property 22
Easements and Other Conservation Property 22
§ 9.10 Retirement Plan Accounts 28
§ 9.19 Bargain Sales 29
§ 9.22A Contributions by Estates 29
Chapter Ten Other Aspects of Deductible Giving 31
§ 10.1 Valuation of Property 31
§ 10.14 Penalties 32
PART FOUR PLANNED GIVING 35
Chapter Twelve Charitable Remainder Trusts 37
Chapter Thirteen Pooled Income Funds 39
§ 13.7 Pass-Through of Depreciation 39
Chapter Sixteen Charitable Lead Trusts 41
§ 16.7 Private Foundation Rules 41
PART SIX ADMINISTRATION OF CHARITABLE GIVING PROGRAMS 43
Chapter Twenty-One Substantiation and Appraisal Requirements 45
§ 21.3 Substantiation Requirements for Gifts of $250 or More 45
§ 21.4 Substantiation Requirements for Noncash Gifts 45
§ 21.5 Appraisal Requirements 45
§ 21.7 Appraisals of Clothing and Household Items 46
Chapter Twenty-Three Special Events, Corporate Sponsorships, and Donor-Advised Funds 47
§ 23.4 Donor-Advised Funds 47
PART SEVEN APPENDICES 49
Appendix H Monthly Federal Interest Rates Used in Valuing Partial Interests (IRC § 7520) 51
Appendix I Deemed Rates of Return for Transfers to New Pooled Income Funds 61
TABLES 63
Cumulative Table of Cases 65
Cumulative Table of IRS Revenue Rulings and Revenue Procedures 77
Cumulative Table of IRS Private Determinations Cited in Text 81
Cumulative Table of IRS Private Letter Rulings, Technical Advice
Memoranda, and General Counsel Memoranda 85
Table of Cases Discussed in Bruce R. Hopkins' Nonprofit Counsel 97
Cumulative Table of IRS Revenue Rulings Discussed in Bruce R. Hopkins' Nonprofit Counsel 101
Cumulative Table of Private Letter Rulings and Technical Advice Memoranda Discussed in Bruce R. Hopkins' Nonprofit Counsel 103
Table of Charitable Giving Law Tax Reform Proposals 105
Cumulative Index 111