Charles Darwin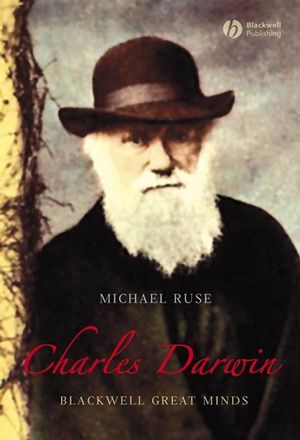 Charles Darwin
ISBN: 978-1-405-14912-9
Apr 2008, Wiley-Blackwell
352 pages
Description
The definitive work on the philosophical nature and impact of the theories of Charles Darwin, written by a well-known authority on the history and philosophy of Darwinism.



Broadly explores the theories of Charles Darwin and Darwin studies

Incorporates much information about modern Biology

Offers a comprehensive discussion of Darwinism and Christianity – including Creationism – by one of the leading authorities in the field

Written in clear, concise, user-friendly language supplemented with quality illustrations

Examines the status of evolutionary theory as a genuine theory and its implications for philosophy, epistemology and ethics

Provides a strong understanding of the philosophical nature and impact of Darwin's thought

Holds wide appeal for general audiences outside the world of academic philosophy

Strongly supports Darwinism and fully explores modern naturalistic explanations of religion
Buy Both and Save 25%!
Original Price:$237.90
Purchased together:$178.43
save $59.47
Cannot be combined with any other offers.
List of Figures.
Preface.
1. Charles Darwin.
2. On the Origin of Species.
3. One Long Argument.
4. Neo-Darwinism.
5. The Consilience: One.
6. The Consilience: Two.
7. Humans.
8. Knowledge.
9. Morality.
10. Religious Belief.
11. The Origins of Religion.
12. The Darwinian Revolution.
Bibliography.
Index
"A major voice in Darwinian scholarship … .Ruse excels. His writing style is clear, calm and non-technical. … This work would appeal to many non-specialist readers. Instead of preaching to the converted, Ruse appeals to the uncertain reader and shows the extent (and therefore the limits) of Darwinian thinking … .Ruse has certainly presented a notable work." (
Metascience
, July 2009)
"This volume is written in a very accessible style. It would make an ideal textbook for a seminar on evolutionary biology attended by both biologists and philosophers." (The Quarterly Review of Biology, June 2009)
"Ruse a professor of philosophy at Florida State University highlights the philosophical impact of Darwin's work and legacy addressing many of the theological and ethical issues and implications that continue to fuel debate today." (San Diego Union Tribune, April 20, 2009)
"Quite usefully and skillfully applied to addressing the vast role of Darwin's work in evolution as it applies to science, philosophy, and society. The book is … well written and engaging both in style and content. I very much like the author's approach in this work because his efforts serve as far more than just a recounting of Darwin's life … .I highly recommend this excellent account of Darwin and how his life his interests and his world all came to help focus a keen intellect on resolving one of the prime mysteries of science. This book would serve not only college audiences of science students but also those studying philosophy." (Science Books and Films, December 2008)
"Ruse (Florida State) is an outstanding authority on Darwinism, a founder of modern evolutionary biology, and an important player in the evolution-creationism controversy. Ruse's new book is an authoritative, readable history of the philosophy of the theory of evolution as proposed by Darwin. Recommended." (CHOICE, October 2008)
"Currently [Blackwell Great Minds] follows its outstanding way with the present edition of Charles Darwin by Michael Ruse … .Ruse is an important figure in the Evolutionary Biology and Evolutionary Thought. With no doubt the book can be greeted as an outstanding work on the study and reading of Darwin in [an] enriching framework." (Metapsychology)
"Michael Ruse needs no introduction to anyone who has read about the philosophy of biology or the controversies surrounding Darwinism over the past three-and-a-half decades. ... Various strands of Ruse's study and thought are brought together here in a single, updated, moderate-length volume that addresses general, serious-minded readers, as well as students, who wish an introductory overview of Ruse's understanding of Darwinism." (Notre Dame Philosophical Reviews)


Broadly explores the theories of Charles Darwin and Darwin studies

Incorporates much information about modern Biology

Offers a comprehensive discussion of Darwinism and Christianity -including Creationism - by one of the leading authorities in the field

Written in clear, concise, user-friendly language supplemented with quality illustrations

Examines the status of evolutionary theory as a genuine theory and its implications for philosophy, epistemology and ethics

Provides a strong understanding of the philosophical nature and impact of Darwin's thought

Holds wide appeal for general audiences outside the world of academic philosophy

Strongly supports Darwinism and fully explores modern naturalistic explanations of religion