Charmed Knits: Projects for Fans of Harry Potter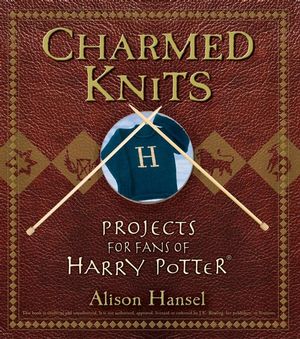 Description
Sit and Knit a Spell
You'll soon be knitting enchanting things you didn't know were within your powers. Charmed Knits offers dozens of patterns for items that evoke the mystique of Harry Potter - a Wizard Robe, an Invisibility Shawl, a Quidditch Sweater, Ron's Ragg Raglan, a Clock Blanket, Harry Christmas Ornaments, and more. Easy-to-follow patterns, color photos of the finished projects, and illustrations of special stitch patterns and design elements make it easy for all knitters - from beginners to those at Mrs. Weasley's level - to work knitting magic. Charmed Knits whisks you away on a wonderful journey. Along the way, you can pick patterns inspired by the Weasleys, stock up at Diagon Alley, show your house colors, conjure up gifts, or create pieces to help you feel at home in the magical world of Harry Potter.
Introduction.
Weasley Knits.
A trip to the Burrow to meet the Weasleys.
The Weasley Sweater.
Mrs. Weasley's Bag of Stitch Witchery.
Molly's Amazing Technicolor Housecoat.
Errol.
Clock Blanket.
Diagon Alley.
Everything the young wizard needs (to knit) from your favorite spots on Diagon Alley.
Student Wizard Cap.
Wizard Robe.
Invisibility Shawl.
Wand Cozies.
Quidditch Sweater.
House Colors.
Head-to-toe designs in school colors.
House Scarves.
House Hats.
House Mittens.
House Socks.
House Sweater.
Hip House Scarf.
House Bookscarves.
The Magic of Giving.
Share the joy of knitting for others with Mrs. Weasley, Hermione, and even Dobby!
Dobby's Socks.
Elf Hats.
Hermione's Magic Knitting Bag.
Harry Christmas Ornaments.
Phoenix Tears Scarf.
Home at Hogwarts.
Casual clothing for life at Hogwarts.
Harry's Red Cable Sweater.
Hermione's Cable and Bobble Hat.
Hermione's Cable and Bobble Mittens.
Ron's Animal Crackers Hat.
Ron's Ragg Raglan.
Appendix.
Special Knitting Techniques.
Knitting Abbreviations.
Contributing Designers.
Index.
"There is a section on knitting techniques and abbreviations included that will explain all to novice knitters…" (Knit Today, October 2007)