Charting Secrets: Trade Like a Machine and Finally Beat the Markets Using These Bulletproof Strategies, 2nd Edition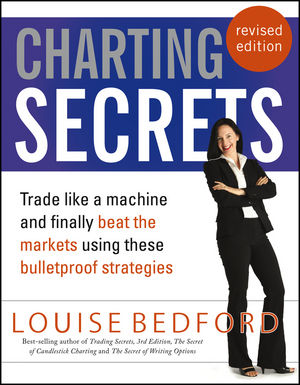 Charting Secrets: Trade Like a Machine and Finally Beat the Markets Using These Bulletproof Strategies, 2nd Edition
ISBN: 978-1-118-54324-5 May 2013 Wrightbooks 368 Pages
Description
A leading Australian trader shows you how to succeed on the sharemarket with proven charting techniques
Now completely revised with the latest trading information, this revised edition of bestselling author Louise Bedford's Charting Secrets is the perfect guide for beginners and experienced traders and chartists alike. Unlike other books on trading, you'll find no get-rich-quick schemes here. Bedford believes that successful trading is a matter of study and hard work, just like any other job. With this in mind, Charting Secrets serves as a workbook that will have you practising what you read and mastering charting techniques as you go. The book begins with explanations of charting patterns and methods and includes sample charts for you to practise on, as well as step-by-step solutions that allow you to compare your results to hers.
Features practical charting advice and sample charts that let readers learn techniques as they read
Covers charting basics, as well as candlestick charting and system development, macro reversal and continuation patterns, trading psychology, and much more
Written by a bestselling author known as one of Australia's most compelling speakers on trading
Whether you're new to the trading game or an experienced trader looking to polish your charting techniques, Charting Secrets will show you how to turn potential into profit.
Table of contents
Acknowledgements vii
My story ix
Let's get started … xv
1 Chart and be sexy 1
Without a sound foundation, advanced charting principles will slip through your fingers. Plus, it's a well-known fact that chartists are damn sexy. Doubt me? I suggest you focus now and you'll soon reap the rewards.
2 The line reveals all … Well, almost … 11
Sometimes the simplest tools are the best. Just a few well-placed lines on a chart can tell you around 80 per cent of what you need to know about trend. Get ready to learn this essential skill …
3 Volume counts 37
I'm about to reveal secrets that few traders realise and even fewer use on a consistent basis. Get this right and you're well on your way to achieving the results you deserve.
4 Moving averages rock! 57
If I had to choose just one indicator to analyse a chart, a moving average would be my absolute first choice. You're about to learn the secrets of the moving average so you can apply them and excel in the markets …
5 My momentous momentum mistake 71
WARNING: I have a love/hate relationship with momentum indicators. Love them or hate them, use them wisely and you'll establish whether a trend is likely to continue or slow down. Handy information to get your hands on …
6 Finally nail macro reversal patterns 91
There's no doubt — I adore patterns. They give me an edge in the markets like no other. You're about to fall in love with them too …
7 Magic macro continuation patterns 137
Want to know if the pretty little trade you're profiting from is likely to continue bringing in money? These little macro continuation patterns will give you your answer. You can't afford to miss out on reading about them …
8 Candlesticks uncut 167
There's no doubt that candle charts can help you get rich and stay rich. They are single-handedly responsible for turning some sort of key in my brain that helped me to become profitable as a trader. Now it's time for them to work their magic on you too …
9 Putting it all together 221
You've been gathering the puzzle pieces. Now you're ready to strut your stuff and complete the picture. This chapter will be very revealing for you. It will give you confidence and allow you to realise just how far you've come already …
10 System development secrets 255
There's more to trading than just diagnosing the trend. It's time you looked at your entire trading system and filled in some of the blanks so you can trade like a machine.
11 The short and the long of it 265
Markets have a habit of reversing trend and fouling up your plans of attaining a neat and easy profit. To last in this game, you need to make money when the market is going down as well as up. Keep reading as all will be revealed …
12 More psychology secrets 279
Sophisticated traders value their own psychology just as much they do their trading system. Underestimate the importance of your emotions and you'll shoot yourself in the foot.
Appendix A — Candlestick basics 287
Appendix B — Back-testing 309
Further reading and education 315
Glossary 317
Macro patterns index 327
Micro patterns index 328
Index 329
Testimonials 335
More from Louise… 341