Chasing Change: Building Organizational Capacity in a Turbulent Environment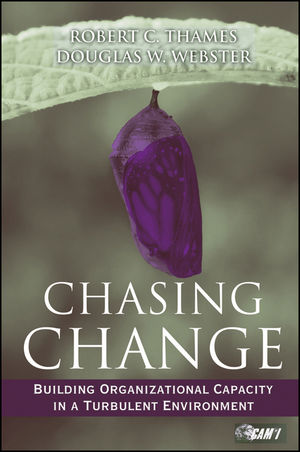 Chasing Change: Building Organizational Capacity in a Turbulent Environment
ISBN: 978-1-119-19756-0
Sep 2015
272 pages
Description
Robust organizational capacity is a company s potential to apply its skills and resources to accomplish goals and exceed stakeholders expectations. This book provides readers with the ability to diagnose both the drivers of change in their organization and the type of change response needed. In addition to the traditional tangible dimension of change, it presents a framework to leverage the cultural and personal dimensions of change to sustain successful change initiatives. As well, it presents an organizational capability self-assessment process to derive the maximum return on change efforts and investments. CEOs and executives will benefit from the ability to link demands for change to organizational capabilities in strategic initiatives.
Introduction.
Part One. Awareness.
Chapter 1. The Hurricane and the Earthquake.
Chapter 2. Importance of Mindset.
Chapter 3. Change Challenge Framework.
Chapter 4. Crafting the Change Response.
Part Two. Assessment.
Chapter 5. Assessing Capabilities for Change.
Chapter 6. Leadership.
Chapter 7. Commitment.
Chapter 8. Accountability.
Chapter 9. Forward Thinking.
Chapter 10. Innovation.
Chapter 11. Communication.
Chapter 12. Risk Tolerance.
Chapter 13. Organizational Learning.
Chapter 14. Trust.
Chapter 15. Diversity.
Chapter 16. Empowerment.
Chapter 17. Adaptation.
Chapter 18. Dynamic Stability.
Chapter 19. Change Journey And The Orchestration Process.
Part Three. Assimilation.
Chapter 20. Executing the Change Plan.
Chapter 21. Candor Bank.
Chapter 22. 2005 Hurricane Katrina Catastrophe in New Orleans.
Conclusion.
About CAM-I.
Index.
"Drawing on their own professional experiences with strategic change they offer a practical text for CEOs, managers and others leading change initiatives. Coverage includes change basics; a framework for understanding how the external and internal environments drive and demand change responses on organizational and individuals levels; an assessment framework for building change capacity, centered on 13 core capabilities that can be evaluated and further developed for greater learning and adaptation to change." (Book News, May 2009)