Chaucer to Spenser: An Anthology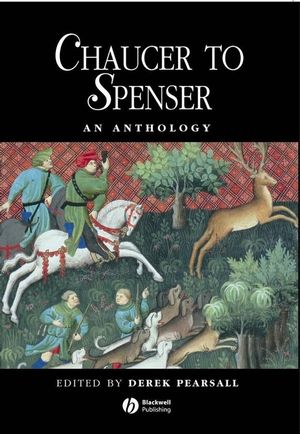 Chaucer to Spenser: An Anthology
ISBN: 978-0-631-19839-0 December 1998 Wiley-Blackwell 720 Pages
Download Product Flyer
Download Product Flyer
Download Product Flyer is to download PDF in new tab. This is a dummy description. Download Product Flyer is to download PDF in new tab. This is a dummy description. Download Product Flyer is to download PDF in new tab. This is a dummy description. Download Product Flyer is to download PDF in new tab. This is a dummy description.
Description
In this key anthology Derek Pearsall offers a radically new approach to those teaching and studying English writing from Geoffrey Chaucer to the early work of Edmund Spenser.
Table of contents
Aplphabetical List of Authors and Works.
Introduction.
Acknowledgements.
List of Abbreviations and Short Titles.
Chronological Table of Dates.
Map.
1. Geoffrey Chaucer (1343-1400).
The Parliament of Fowls.
From Troilus and Criseyde.
From The Canterbury Tales.
Minor Poems.
2. William Langland (1375-1380).
From The Vision of Piers Plowman (c-text).
3. The Letters of John Ball (1381).
4. John Trevisa (1402).
5. The Wycliffite Bible (1380-1400).
6. 'The Gawain-Poet' (1390).
From Sir Gawain and The Green Knight.
From Patience.
7. John Gower 91408).
From Confessio Amantis.
8. Mandeville's Travels (1390-1400).
9. The Cloud of Unknowing (1390-1400).
10. Julian of Norwich (1342-14180.
From The Revelations of Divine Love.
11. The Alliterative Morte Arthure.
12. William Thorpe.
From The Testimony of William Thorpe.
13. Nicholas Love (1410).
14. Thomas Hoccleve (1368-1426).
From La Male Regle De T. Hoccleve.
From The Regement of Princes.
From 'The Series'.
15. John Lydgate (1371-1449).
From The Troy-Book.
From The Siege of Thebes.
From The Life of Our Lady.
From The Dance Macabre.
From The Fall of Princes.
Letter to Gloucester.
From The Testament of Dan John Lydgate.
16. Maragret Kempe (1373-1440).
From The Book of Margery Kempe.
17. Charles of Orleans 91394-1465).
18. Anonymous Songs and Short Poems, Religious, Comic and Amatory.
19. Love-Poems (By Women?) From The Findern Manuscript.
20. Popular Ballads.
21. Reginald Pecock (1392/5- 1460).
22. The Paston Letters.
23. Sir John Fortescue (1395-1477).
From The Governance of England.
24. Sir Thomas Malory (1410-1471).
From Morte D'Arthur.
25. William Caxton (1422-14920.
26. Robert Henryson (1430-1505).
The Testament of Cresseid.
From The Fables.
27. William Dunbar (1456-15150.
Meditation in Winter.
Christ in Triumph.
From The Golden Targe.
From The Treatise of the Two Married Women and the Widow.
28. Gavin Dougles (1475-1522).
From The Aeneid-Translation.
29. Stephen Hawes (1521).
From The Pastime of Pleasure.
30. John Skelton (1460-1529).
31. The First English Life of Henry V (1513).
32. Sir Thomas More (1478-1535).
From The History of King Richard III.
From Utopia.
From A Dialogue of Comfort Against Tribulation.
33. Sir Thomas Elyot (1490-1546).
From The Book Named the Governor.
34. William Tyndale (1494-1536).
From The Prologue to the New Testament.
From The New Testament.
From The Obedience of a Christian Man.
35. Simon Fish (1500-1531).
36. William Roper (1496-1577).
37. Sir David Lindsay (1486-1555).
From Squire Meldrum.
38. George Cavendish (1499-1562).
From The Life and Death of Cardinal Wolsey.
From Metrical Visions.
39. Sir Thomas Wyatt (1503-1542).
40. John Leland (1506-15520.
41. Henry Howard, Earl Of Surrey (1517-1547).
42. High Latimer (1491-1555).
From The 'Sermon of the Plougher'.
43. Roger Ascham (1515-1568).
From Toxophilus, or, The School of Shooting.
From The Schoolmaster.
44. A Mirror fro Magistrates (1563).
45. John Foxe (1517-1587).
From The Acts and Monumnets of Martyrs.
46. George Gascoigne (1539-1578).
From The Steel Glass.
From The Spoil of ANtwerp.
47. Edmund Spenser (1552-1599).
Textual Variants.
Glossary of Common Hard Words.
Index.
Reviews
"The true proof of an anthology is its classroom performance. . .Pearsall's smorgasbord of short extracts, dressed with first-rate contextualizing commentary and references to just the right secondary literature, inspire much independent investigation and a joyous crop of non- repetitive termpapers." "Above all, it is a pleasure to work with a volume annotated from a lifetimes's learning and leavened by rare, companionable humour. Many moments linger." Medium Aevum
Features


Provides first-hand understanding of two centuries of literary culture.


Gives representation to all kinds of writing that is of 'literary' interest.


Offers a transgression of the 'great divide' of medieval and Renaissance, and ignores conventional periodization.