Chef's Book of Formulas, Yields, and Sizes, 3rd Edition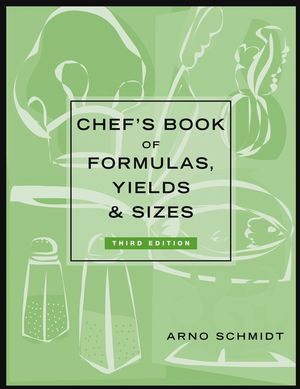 Chef's Book of Formulas, Yields, and Sizes, 3rd Edition
ISBN: 978-0-471-22716-8
Mar 2003
368 pages
Description
This encyclopedic technical reference is absolutely indispensable for any foodservice professional who must calculate costs for inventory management or determine exact measurements for portion control. Packed with informative, easy-to-read tables and surprisingly diverse entries, this book will broaden the knowledge of seasoned chefs and novices alike.
Preface.
Acknowledgements.
Credits.
Baby Vegetables.
Baked Goods.
Dairy Products.
Fish, Mollusks, Shellfish, and Seafood.
Flowers.
Fruits.
Groceries.
Herbs and Spices.
Interational Ingredients.
Meats and Meat Products.
Recipes.
Tropical Fruits.
Vegetables.
Sizes and Miscellaneous Information.
Index.
Over 2,000 listings - more than 150 new to this edition.
Expanded coverage of ingredients unique to Indian, Chinese, Latin, and Japanese cooking.
Ingredients now listed by food group for easier navigation.
Detailed kitchen yield, count, size, pack, weight, and seasonal availability information.
Includes numerous charts detailing can and bottle sizes, weights and measures, steam table pan sizes, table and tablecloth sizes, and much more.