Chemical Analysis of Contaminated Land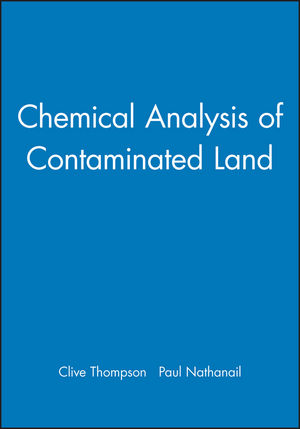 Chemical Analysis of Contaminated Land
ISBN: 978-1-405-14770-5 February 2009 Wiley-Blackwell 312 Pages
Description
This book provides a unique source of reference on the chemical analysis of potentially contaminated land. It assists in specifying appropriate analyses, relevant strategies for carrying out analyses, and methods of interpreting results within the new risk-based legislative framework for contaminated land. It addresses all aspects of the analysis, from delivery of the samples to the laboratory to the presentation of the results to the clients. Emphasis is placed on concentrated, tabular data, wherever possible. Problems of analysis are highlighted and solutions are proposed. Asbestos is covered in detail in the chapter on inorganic parameters, and a chapter is included on the new techniques of ecotoxicity measurement.


Directed equally at the analytical chemist and the environmental scientist or engineer responsible for commissioning analyses of potentially contaminated soil or water samples, the book is written in a way that will prove helpful to both new and experienced practitioners. As such, it is one of the first volumes to bridge the gap between the customer and the supplier.
The risk assessor as the customer; The requirements of the analytical method; Initial sample preparation; Metal analysis; Analysis of inorganic parameters; Petroleum hydrocarbons and polyaromatic hydrocarbons; Volatile organic compounds; Non-halogenated organic compounds including semi-volatile organic compounds (SVOCs); Leaching tests; Ecological assessment and toxicity screening in contaminated land analysis; Appendices; References; Index.
"This book provides a good guide to some of the techniques on the chemical analyses of potentially contaminated land."
Chemistry and Industry, 2003
"This is a very well written book with a comprehensive review of the numerous tests that may be used to evaluate contaminated land. It should be extremely useful both to the bench chemist as well as to the engineer who has responsibility of understanding safe site cleanup and a desirable end point for that process."
Journal of Hazardous Materials 2004

"The advantage of this book is that it compiles together several chemistry-related issues that are usually found in separate books."

"This book is useful for those who want to get an overall view of the analysis of chemicals in soils, and for those who want to learn about the analytical processes used for this, including sample preparation, analytical concepts, method validation and quality assurance/quality control." Anal Bioanal Chem 2006

"Chemical Analysis of Contaminated Land is a unique source of reference on the chemical analysis of potentially contaminated land... This book is directed at analytical chemists, environmental scientist and engineers who are responsible for commissioning analyses of potentially contaminated soil or water samples... The book bridges the gap between customers and the suppliers."
Carbohydrate Polymers