Chemical Management: Reducing Waste and Cost Through Innovative Supply Strategies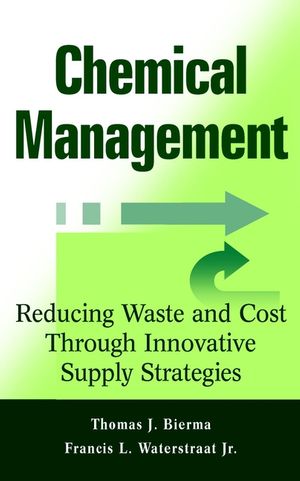 Chemical Management: Reducing Waste and Cost Through Innovative Supply Strategies
ISBN: 978-0-471-33284-8 November 1999 344 Pages
Description
The only step-by-step guide to an exciting new chemical management and waste minimization methodology

Over the past decade, a revolutionary new approach to chemical supply has emerged that dramatically reduces chemical waste and chemical costs while improving company performance. Known as Shared Savings Chemical Management, it has already yielded astonishing results for several major North American manufacturing firms and numerous other companies. The first complete guide to this innovative chemical management methodology, Chemical Management acquaints you with Shared Savings principles and shows you how to put them to work in your company.

Thomas Bierma and Francis Waterstraat Jr. explore the environmental, health and safety, purchasing, inventory, tracking, waste disposal, and other major problems inherent to traditional chemical supply programs, and clearly explain how and why a Shared Savings Chemical Management program helps minimize or completely eliminate those problems. With the help of fascinating case studies, they demonstrate how Shared Savings techniques are currently being applied in five extremely successful plants belonging to GM, Ford, Chrysler, and Navistar International. What's more, they provide you with a complete, step-by-step blueprint for designing and implementing a Shared Savings program tailored to your company.

Chemical Management is an indispensable resource for manufacturing managers, purchasing managers, environmental managers, health and safety managers, and others charged with developing more effective chemical waste minimization strategies for their companies.
Table of contents
It's Time to Change Your Chemical Management Strategy.

THE CHEMICAL BEAST.

The Chemical Beast: The Hidden Cost of Chemicals.

Causes of the Chemical Beast.

Inherently Wasteful Relationships.

Total Cost of Chemical Ownership.

Chemicals Affect Product Costs.

Chemicals and Business Value.

SHARED SAVINGS CHEMICAL MANAGEMENT.

Alternative Chemical Supply Strategies.

Elements of Shared Savings Chemical Management.

Why Shared Savings Works.

Purchasing and Chemical Management.

EHS and Chemical Management.

Concerns and Misconceptions about Shared Savings.

SHARED SAVINGS IN ACTION.

Chemical Management Case Histories.

Navistar Engine Plant.

General Motors Truck and Bus Plant.

Ford Chicago Assembly Plant.

Chrysler Belvidere Assembly Plant.

General Motors Electro-Motive Division.

PUTTING SHARED SAVINGS TO WORK.

Benefits for the Chemical User.

Benefits for the Chemical Supplier.

Implementing Shared Savings.

Shared Savings Contracts.

Pricing.

The Future of Shared Savings.

Glossary.

Bibliography.

Index.
Reviews
"This is a genuinely exciting book." (Chemistry and Industry, 2nd October 2000)