Chemical Separations: Principles, Techniques and Experiments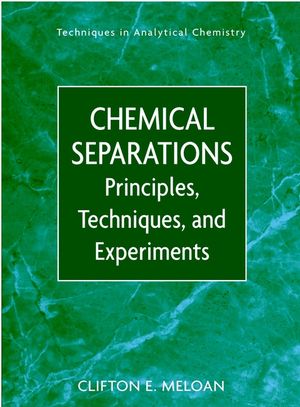 Chemical Separations: Principles, Techniques and Experiments
ISBN: 978-0-471-35197-9 October 1999 768 Pages
Description
Performing effective chemical separations-a step-by-step guide to the most commonly used techniques.
How do experienced analysts go about making a chemical separation work? Through precise, detailed coverage of the principles, equipment, and techniques involved, this combination laboratory manual and reference source gives readers a working knowledge of an impressive array of separation methods. In forty-two chapters, it explores all major categories of separation, including those involving phase changes, extraction, chromatography, ion-exchange resins, electric fields, flotation, membranes, and miscellaneous techniques.
With an emphasis on everyday practice rather than theory, Chemical Separations explains the principles and parameters of these methods with a minimum of mathematics, while providing 59 specific experiments to demonstrate proper procedures. Drawn from well-known commercial and academic laboratories and approved by national standard-setting organizations, these experiments feature step-by-step protocols for each separation scheme, precise instructions on setting up the apparatus, and helpful checklists for essential chemicals and supplies. With Chemical Separations as their guide, laboratory analysts and newcomers to chemical analysis will learn how to obtain quality analysis using commercial products, natural samples, and proven real-world laboratory techniques.
Table of contents
SEPARATIONS INVOLVING PHASE CHANGES.

Volatilization.

Zone Melting.

Distillation: General Information.

Azeotropic and Extractive Distillations.

Steam and Immiscible Solvents Distillation.

Vacuum Distillation.

Molecular Distillation and Sublimation.

Lyophilization (Freeze Drying).

SEPARATIONS INVOLVING EXTRACTION.

Extraction: General Concepts.

Continuous Extraction.

Countercurrent (Extraction) Chromatography: The Ito Coil-Planet Centrifugal Extractor.

Solid Phase Extraction.

Supercritical Fluid Extraction.

SEPARATIONS INVOLVING CHROMATOGRAPHY.

Chromatography: General Theory.

Displacement and Multiple Column Partition Chromatography.

Affinity Chromatography.

Size Exclusion Chromatography (Gel Filtration;
Gel Permeation).

Flash Chromatography.

High Performance Liquid Chromatography (HPLC).

Gas-Liquid Chromatography.

Paper Chromatography.

Thin Layer Chromatography.

SEPARATIONS INVOLVING ION EXCHANGE RESINS.

Ion Exchange.

Ion Chromatography.

Ion Retardation, Ion Exclusion, and Ligand Exchange.

SEPARATIONS INVOLVING ELECTRIC FIELDS.

Electrodeposition.

Electrophoresis--General.

Immunoelectrophoresis.

Polyacrylamide Gel Disc Electrophoresis.

Ion Focusing, SDS, and Two-Dimensional Electrophoresis.

Capillary Zone Electrophoresis.

Field Flow Fractionation.

SEPARATIONS INVOLVING FLOTATION.

Purge and Trap and Dynamic Headspace Analysis

Foam Fractionation, Gas-, and Liquid-Assisted Flotation.

SEPARATIONS INVOLVING MEMBRANES.

Osmosis and Reverse Osmosis.

Dialysis and Electrodialysis

Filtering and Sieving.

SEPARATIONS INVOLVING MISCELLANEOUS TECHNIQUES.

Density Gradients.

Centrifugation.

Masking and Sequestering Agents.

Solubility.

Gas Analysis by Portable Orsat.

Appendices.

Index.
Reviews
"...the book provides a good balance between techniques relevant for chemical separation and experimental work." (The Analyst, 18th August 2000)