Chemicals and Long-Term Economic Growth: Insights from the Chemical Industry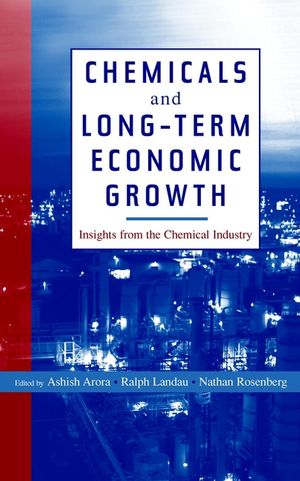 Chemicals and Long-Term Economic Growth: Insights from the Chemical Industry
ISBN: 978-0-471-39962-9
Sep 2000
576 pages
Description
A paperback edition of a highly successful hardcover edition, "Chemicals and Long-Term Economic Growth" examines how commercial and technological leadership in the chemical industry has developed over the last century and a half, the forces that powered this shifting leadership, and how economic and management lessons learned can help in creating policies to promote long-term economic health in the industry.
? Addresses the sources of comparative advantage and growth in the chemical industry, focusing on how these sources have varied over time, across countries, and in different industries.
? Discusses the development of new technologies and overall organization of the industry and what we can learn from them.
ORGANIZATION AND PURPOSE.

Introduction (A. Arora, et al.). COUNTRY OVERVIEWS.

On the Making of Competitive Advantage: The Development of the Chemical Industries of Britain and Germany Since 1850 (J. Murmann & R. Landau).

Chemicals: A U.S. Success Story (A. Arora & N. Rosenberg).

The Japanese Puzzle (T. Hikino, et al.).

INNOVATION AT THE HEART OF THE INDUSTRY.

The Process of Innovation in the Chemical Industry (R. Landau).

The Impact of the Legal System on Innovation (T. Campbell & R. Landau).

Technological Change in Chemicals: The Role of University-Industry Relations (N. Rosenberg).

SURVEYING THE LEVELS OF THE MATRIX.

The Industry Evolves Within a Political, Social, and Public Policy Context: A Brief Look at Britain, Germany, Japan, and the United States (M. Horstmeyer).

Monetary, Fiscal, and Trade Policies in the Development of the Chemical Industry (B. Eichengreen).

Finance and the Chemical Industry (M. Da Rin).

Structure and Performance of the Chemical Industry under Regulation (K. Esteghamat).

Evolution of Industry Structure in the Chemical Industry (A. Arora & A. Gambardella).

The Evolution of Corporate Capability and Corporate Strategy and Structure Within the World's Largest Chemical Firms: The Twentieth Century in Perspective (A. Chandler, et al.).

THE MODERN CHEMICAL INDUSTRY AND CORPORATE GOVERNANCE.

Connecting Performance and Competitiveness with Finance: A Study of the Chemical Industry (A. Richards).

INSIGHTS FROM THIS STUDY.

Conclusions (A. Arora, et al.).

About the Contributors.

Index.
"Thirteen papers study how commercial technological leadership in the chemical industry has moved across countries and firms over the last century and a half, and the forces that powered this shifting leadership." (Journal of Economic Literature, Vol. 39, No. 4, December 2001)