Chemistry, 3rd Edition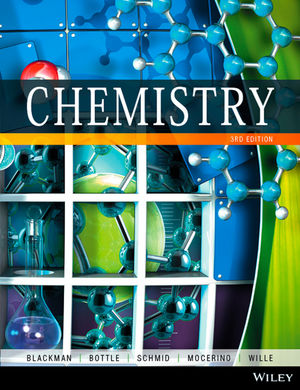 Description
The third edition of Chemistry continues the substantial commitment of Wiley to chemistry education in Australia and New Zealand, as well as for international markets. Chemistry 3e provides the appropriate mix of organic, inorganic and physical chemistry for the 2-semester introductory chemistry course.
In this edition all chapters have been revised, with selected chapter openers and examples being updated to reflect the latest developments in the field of chemistry. New worked examples, practice exercises and end of chapter questions have been added throughout, and many of the existing questions have been reworked with new values.
About the authors xvi
Preface xviii
Acknowledgements xix
1 The atom 2
2 The language of chemistry 24
3 Chemical reactions and stoichiometry 80
4 Atomic energy levels 118
5 Chemical bonding and molecular structure 170
6 Gases 218
7 Condensed phases: liquids and solids 258
8 Chemical thermodynamics 296
9 Chemical equilibrium 348
10 Solutions and solubility 390
11 Acids and bases 430
12 Oxidation and reduction 494
13 Transition metal chemistry 546
14 The p-block elements 600
15 Reaction kinetics 640
16 The chemistry of carbon 696
17 Chirality 758
18 Haloalkanes 790
19 Alcohols, amines and related compounds 820
20 Spectroscopy 874
21 Aldehydes and ketones 942
22 Carbohydrates 984
23 Carboxylic acids and their derivatives 1010
24 Amino acids, peptides and proteins 1060
25 The chemistry of DNA E-CHAPTER
26 Polymers E-CHAPTER
27 Nuclear chemistry E-CHAPTER
Practice exercise answers PE-1091
Appendices A-1113
Glossary of equations GE-1123
Glossary G-1126
Index I-1141
Chapter openers: Provide highly visual examples of practical application of the chemistry to be presented in the chapter.
Learning objectives: The learning objectives have been developed to articulate into the broader Chemistry Threshold Learning Objectives. They reflect the level of knowledge and skill that should have been acquired after studying each section of the chapter.
Chemical Connections: Highlight the connections between the chemical concepts within the chapter, and the local applications of that chemistry in the world around us.
Key terms: The important terminology introduced in the chapter is bolded and coloured. These key terms help students identify the most important concepts. They are also listed at the end of each chapter to help students assess their knowledge.
Worked Examples: Are integrated throughout the chapter that model the various steps required to solve the problem.
Practice Exercises are also included after most Worked Examples.
Chapter summaries: Each chapter concludes with a succinct overview of the key concepts and processes discussed in the chapter.
Review questions and problems: Each chapter features a revision set which covers the learning objectives from the chapters and features questions at various levels of difficulty.
Additional exercises: Have been included to facilitate deep revision of the chapter topics.