Chemistry Experiments for Instrumental Methods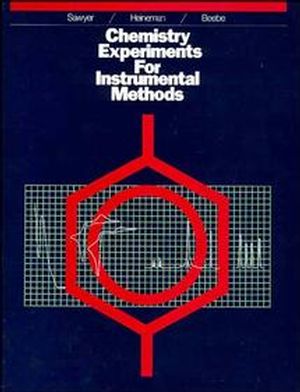 Chemistry Experiments for Instrumental Methods
ISBN: 978-0-471-89303-5
Sep 1984
448 pages
Description
The only self-contained modern laboratory manual for advanced undergraduate courses in instrumental analysis. Consists of over 50 experiments demonstrating the theory and practice of electrochemical methods, methods based on electromagnetic radiation, and separation methods. Experiments are introduced with a review of the physical principles on which the experimental procedures are based.
ELECTROCHEMICAL METHODS.

Potentiometric Methods.

Conductometric Methods.

Controlled Potential Methods (Voltammetry).

Electrolytic Methods and Controlled Current Methods.

METHODS BASED ON ELECTROMAGNETIC RADIATION.

Analytical Ultraviolet-Visible Absorption Spectroscopy.

Absorption Spectroscopy of Electronic Transitions.

Infrared Spectroscopy.

Atomic Absorption and Atomic Emission Spectroscopy.

Fluorescence Spectroscopy.

Nuclear Magnetic Resonance Spectroscopy.

SEPARATION METHODS.

Gas Chromatography.

High Performance Liquid Chromatography (HPLC).

Other Separation Methods.

Appendix.