Chemistry and Technology of Surfactants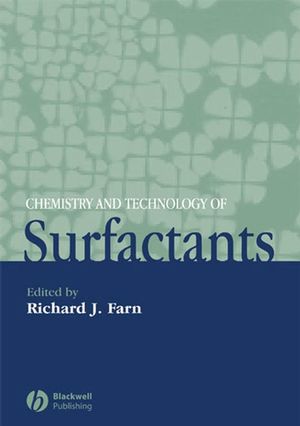 Chemistry and Technology of Surfactants
ISBN: 978-1-405-12696-0 May 2006 Wiley-Blackwell 336 Pages
Description
Surfactants are used throughout industry as components in a huge range of formulated products or as effect chemicals in the production or processing of other materials. A detailed understanding of the basis of their activity is required by all those who use surfactants, yet the new graduate or postgraduate chemist or chemical engineer will generally have little or no experience of how and why surfactants work.





Chemistry & Technology of Surfactants is aimed at new graduate or postgraduate level chemists and chemical engineers at the beginning their industrial careers and those in later life who become involved with surfactants for the first time. The book is a straightforward and practical survey of the chemistry of surfactants and their uses, providing a basic introduction to surfactant theory, information on the various types of surfactant and some application details. This will allow readers to build onto their scientific education the concepts and principles on which the successful use of surfactants, across a wide range of industries, is based.
Contributors.
Preface.
Glossary.
1 What Are Surfactants?.
1.1 History and Applications of Surfactants.
1.2Market Overview: Importance in Different Industries.
2 The Basic Theory.
2.1 The Molecular Structure of Surfactants.
2.2 Surface Activity.
2.3 Self Assembled Surfactant Aggregates.
2.4 Adsorption of Surfactants at Surfaces.
3 Applied Theory.
3.1 Introduction.
3.2 Detergency.
3.3 Phase Behaviour of Surfactants.
3.4 Emulsions.
3.5 Foaming and Defoaming.
3.6 Rheology of Surfactant Solutions.
4 Anionic Surfactants.
4.1 Sulphonates.
4.2 Sulphates.
4.3 Phosphate Esters.
4.4 Carboxylates.
5 Nonionic Surfactants.
5.1 Introduction.
5.2 General Alkoxylation Reactions.
5.3 Alkyl Phenol Ethoxylates.
5.4 Fatty Alcohol Ethoxylates.
5.5 Poloxyethylene Esters of Fatty Acids.
5.6 Methyl Ester Ethoxylates.
5.7 Polyalkylene Oxide Block Copolymers.
5.8 Amine Ethoxylaates.
5.9 Fatty Alkanolamides.
5.10 Amine Oxides.
5.11 Esters of Polyhydric Alcohols and Fatty Acids.
5.12 Glycol Esters.
5.13 Glycerol Esters.
5.14 Polyglycerol Esters.
5.15 Anhydrohexitol Esters.
5.16 Polyalkylene Polyol Esters.
5.17 Alkyl Polyglucosides.
5.18 Gemini Surfactants.
6 Other Types of Surfactants.
6.1 Cationic Surfactants.
6.2 Amphoteric Surfactants.
6.3 Silicone Surfactants.
6.4 Polymerisable Surfactants.
6.5 Fluorinated Surfactants.
7 Relevant European Legislation.
7.1 Biodegradability.
7.2 Classification and Labelling of Surfactants.
7.3 European Union New Chemicals Strategy.
7.4 Biocidal Products Directive.
8 Relevant Legislation, Australia, Japan and USA.
8.1 Australia.
8.2 Japan.
8.3 USA.
9 Surfactant Manufacturers.
Index
"This book is designed to give practical help to those involved with the use of surface active agents (or surfactants). It is intended particularly for new graduate and post-graduate chemists and chemical engineers at the beginning of their industrial careers and for those who, in later life, become involved with surfactants for the first time. The book is a straightforward and practical survey of the chemistry of surfactants and their uses."
CAB Abstracts


"Every lab needs a book on surfactants and this is a very good one. It is well edited with a uniformity of presentation, well illustrated with excellent tables and diagrams, and well referenced.

With a hard cover, robustly bound, and reasonably priced, it is good value."

Surface Coatings Australia, December 2006


A concise, and accessible overview of the chemistry and technology of surfactants, allowing the reader to acquire, rapidly and economically, a sophisticated working knowledge of surfactants.


Highly practical in approach, the book will focus the how surfactants are used in the development of formulated products and in resolving formulation problems, giving the reader clear guidance when faced with these tasks.


Primarily written by industrial chemists, the book offers a unique insight into the use of these materials.