Chemoecology of Insect Eggs and Egg Deposition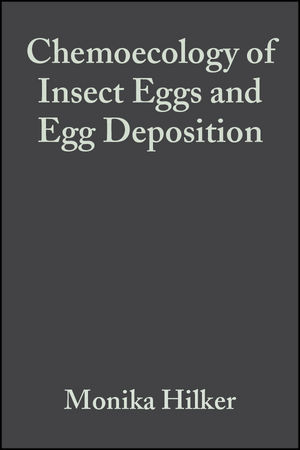 Chemoecology of Insect Eggs and Egg Deposition
ISBN: 978-0-470-75998-1 April 2008 Wiley-Blackwell 416 Pages
Description
This is the first book focusing on the chemoecology of insect eggs and egg deposition. It covers a wide range of different issues including herbivorous and carnivorous insects, social insects and those of medical and veterinary importance. The knowledge compiled in this book may promote future studies on evolutionary aspects on insect reproductive behaviour as well as on controlling insect pests by targeting the egg stage.
Table of contents
List of Contributors.
Acknowledgements.
Chemoecology of Insect Eggs and Egg Deposition: An Introduction (Monika Hilker and Torsten Meiners).
Chemoecology of Insect Eggs.
Novel Morphological and Physiological Aspects of Insect Eggs (Ioannis P. Trougakos and Lukas H. Margaritis).
Insect Accessory Reproductive Glands: Key Players in Production and Protection of Eggs (Cedric Gillott).
Chemical Protection of Insect Eggs (Murray S. Blum and Monika Hilker).
Paternal Investment in Egg Defence (Thomas Eisner, Carmen Rossini, Andres Gonzalez, Vikram K. Iyengar, Melody V. S. Siegler and Scott R. Smedley).
Brood Protection in Social Insects (Manfred Ayasse and Robert J. Paxton).
The Role of Microorganisms for Eggs and Progeny (Rupert L. L. Kellner).
Chemoecology of Egg Deposition.
Plant Chemical Cues Important for Egg Deposition by Herbivorous Insec6ts (Erich Stadler).
The Plant's Response towards Egg Deposition (Monika Hilker, Odette Rohfritsch and Torsten Meiners).
Oviposition Pheromones in Herbivorous and Carnivorous Insects (Peter Anderson).
Chemoecology of Oviposition in Insects of Medical and Veterinary Importance (Philip J. McCall).
Chemoecology of Parasitoid and Predator Oviposition Behaviour (Johannes L. M. Steidle and Joop J. A. van Loon).
Evolutionary Ecology of Oviposition Marking Pheromones (Thomad S. Hoffmeister and Bernard D. Roitberg.
Evolutionary Ecology of Oviposition Strategies (Niklas Janz).
Subject Index.
Taxonomic Index
Reviews
"The editors Monika Hilker and Torsten Meiners have brought together 13 splendid chapters on all aspects of the chemical ecology of insect eggs and their deposition. This book is a must for every biologist. Students are made enthusiastic and the professional will marvel about the many aspects of insect eggs that he/she did not know yet. It is a book not to be missed." – Marcel Dicke