Chemotherapy and Radiation For Dummies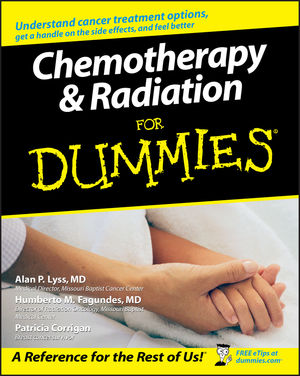 Chemotherapy and Radiation For Dummies
ISBN: 978-1-118-06999-8 May 2011 384 Pages
Description
An informative, compassionate guide for cancer patients and their loved ones
Each year, more than 1 million people get treated for cancer, and most of these will undergo chemotherapy, radiation therapy, or both. This reassuring, optimistic guide helps people get a handle on treatment options and explains in plain English how chemotherapy and radiation therapy really work. It offers detailed advice on how to alleviate and cope with side effects-which range from hair loss to nausea to anemia-and describes how good nutrition, meditation, support groups, and other techniques and resources can help in the recovery process.
Table of contents
Introduction.
Part I: Your Journey Through Cancer Treatments: Preparing for the Trip.
Chapter 1: Recognizing the Realities of Chemotherapy and Radiation.
Chapter 2: The Mutants Take Over: A Primer on Cancer.
Chapter 3: You Will Be Tested: What All Those Tests Show.
Part II: Your Choices along the Way: Making Good Ones.
Chapter 4: Defining Chemotherapy: The Anticancer Drugs.
Chapter 5: Defining Radiation: A Burning Issue.
Chapter 6: Setting New Standards: The Role of Clinical Trials.
Chapter 7: Getting a Second Chance: Bone Marrow Transplants.
Part III: Chemotherapy: What to Expect and How to Deal with Side Effects.
Chapter 8: What to Expect During Chemotherapy: A Head-to-Toe Mouthwash.
Chapter 9: Gimme a Boost: Immune and Bone Marrow Stimulants.
Chapter 10: Coping with Serious Side Effects of Chemotherapy.
Chapter 11: Coping with Less Serious Side Effects of Chemotherapy.
Part IV: Radiation: What to Expect and How to Deal with Side Effects.
Chapter 12: What to Expect During Radiation: Tattoos and Moisturizer.
Chapter 13: Coping with Side Effects of Radiation Therapy.
Part V: Your Success Strategies: Assembling Your Support Team.
Chapter 14: Your Health Professionals: Your Friends and Guides.
Chapter 15: Good Nutrition: Eating Right No Matter How You Feel.
Chapter 16: Meeting Spiritual Needs: Turning to Prayer and Meditation.
Chapter 17: Finding a Support Group: Realizing You Are Not Alone.
Part VI: Your Future after Cancer Treatments: Looking Ahead.
Chapter 18: Finishing Therapy: An End and a Beginning.
Chapter 19: Dealing with Recurrence: Here We Go Again.
Chapter 20: Defining Yourself after Cancer: The New Normal.
Part VII: The Part of Tens.
Chapter 21: Ten Myths about Cancer.
Chapter 22: Ten Ways for Family and Friends to Help You.
Chapter 23: Ten Things Beyond Your Control.
Chapter 24: Ten Ways Life Will Be Better after Cancer.
Chapter 25: Ten Sources for More Information.
Glossary.
Index.
Reviews
"...spiced with humour ... succeeds in demystofying cancer therapy ... a compassionate and practical book ... a welcome addition to cancer patient literature..." (Cancer World, April 2006)