Chess For Dummies, 2nd Edition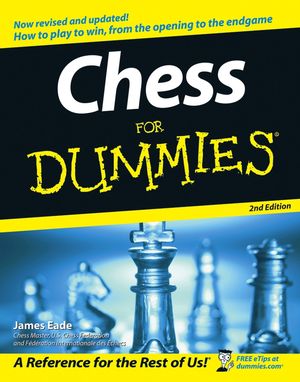 Chess For Dummies, 2nd Edition
ISBN: 978-1-118-05451-2
Mar 2011
384 pages
Product not available for purchase
Description
Proven tactical tips to strengthen your game

Your quick and easy guide to the rules, strategies, and etiquette of chess

Kings, queens, knights - does chess seem like a royal pain to grasp? This friendly guide helps you make the right moves. From using the correct terms to engaging in the art of attack, you'll get step-by-step explanations that demystify the game. You'll also find updated information on tournaments and top players, as well as computer chess games and playing chess online!

Discover how to:
Set up your chessboard
Understand the pieces and their powers
Recognize the game's patterns
Decipher chess notation
Employ tactics to gain an advantage
Find tournaments and clubs
Introduction.
Part I: Laying the Groundwork.
Chapter 1: Tackling the Chess Basics.
Chapter 2: Greeting the Pieces and Their Powers.
Chapter 3: Getting to Know the Elements of Chess.
Chapter 4: Looking Out for the King: Check, Stalemate, and Checkmate.
Part II: Gaining Chess Know-How.
Chapter 5: Tactics and Combinations in Hand-to-Hand Combat.
Chapter 6: Sacrifices: When It's Better to Give than to Receive.
Chapter 7: Mastering Mating Patterns.
Chapter 8: Building Pattern Recognition.
Chapter 9: Recognizing Pawn Formations.
Chapter 10: Making Special Moves.
Part III: Game Time: Putting Your Chess Foot Forward.
Chapter 11: Selecting Your Strategy: The Principles of Play.
Chapter 12: Coming on Strong in the Opening.
Chapter 13: Making Headway during the Middlegame.
Chapter 14: Exiting with Style in the Endgame.
Part IV: Getting Into Advanced Action.
Chapter 15: Competition Play and Necessary Etiquette.
Chapter 16: Hitting the Net with Computer Chess.
Chapter 17: Got Notation? Reading and Writing about Chess.
Part V: The Part of Tens.
Chapter 18: The Ten Most Famous Chess Games.
Chapter 19: The Ten Best Players of All Time.
Part VI: Appendixes.
Appendix A: A Glossary of Chess.
Appendix B: Other Chess Resources.
Index.