Chicken Lips, Wheeler-Dealer, and the Beady-Eyed M.B.A: An Entrepreneur's Wild Adventures on the New Silk Road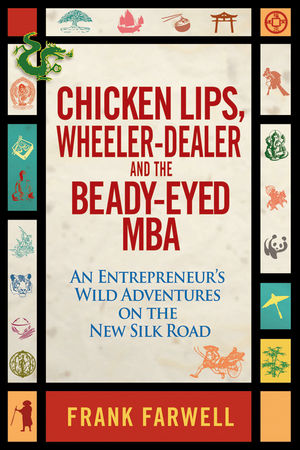 Chicken Lips, Wheeler-Dealer, and the Beady-Eyed M.B.A: An Entrepreneur's Wild Adventures on the New Silk Road
ISBN: 978-0-470-82869-4
Jun 2011
300 pages
Description
One man's worldwide entrepreneurial adventure…and how to follow in his footsteps
Part memoir, part practical guide for any budding entrepreneur, Chicken Lips, Wheeler-Dealer and the Beady-Eyed M.B.A. is the story of how one man abandoned a cushy publishing job in Manhattan to pursue his dream of working for himself. Spanning eleven years, the book tells the sometimes moving, sometimes funny, and always inspiring story of Frank Farwell, who rediscovered a forgotten product from China and cashed in on a readily defined American market niche. A fascinating look at the transitional years of modern China, the book is packed with helpful information for anyone keen to leave well-paid tedium for the Wild West of self-employment.
As the interest in self-employment rises, Chicken Lips, Wheeler-Dealer, and the Beady-Eyed M.B.A. fills an important niche. Covering the successes and failures that mark the path of the committed entrepreneur, the book entertains and instructs using concrete, real-life examples that clearly illustrate the dos and don'ts of running your own business.
A non-fiction look at the world of self-employment that uses a real-life story to illustrate successes and pitfalls
Includes a "Lessons Learned" appendix that succinctly explain the most important takeaways for starting your own business
A compelling insight into entrepreneurship that spans continents
The story of a tenderfoot company and its neophyte boss who maneuvers his way in and out of trouble to ultimately build a business that is still thriving today, Chicken Lips, Wheeler-Dealer, and the Beady-Eyed M.B.A. is a fascinating, informative look at entrepreneurship in the twenty-first century.
PART 1 Building and Blundering.
1. Cigar Butts and Newspaper Junkies.
2. Over the Falls.
3. Searching for The Product.
4. Chicken Lips and Happy Linebacker.
5. A Chinese Clue.
6. Seagull in the Desert.
7. The Trouble with Miss Wisconsin.
8. The Wisdom of Soapstone.
9. HR Blunders.
PART 2 Emergence, Growth, and Profits.
10. The Magic of Smiling Dan.
11. The Silver Fox.
12. Mrs. Hollingsworth and the Choker Turtlenecks.
13. Battling Seventh Avenue.
14. The Long Island Leg Breaker.
15. Grilled Squid in Backstreet Seoul.
16. Uncle Bob and the Sharp-Eyed Rookie.
17. The Delusional Printer.
18. The Long Road to Almost Perfect.
PART 3 Chaos to Clarity: Dodging Bullets While Building an Organization.
19. An Accelerating Blur.
20. Rookie's Waltz.
21. The Philosophy of Numbers.
22. Employees from Heaven—and Hell.
23. Stocks Crash, Workers Strike.
24. Our Own Saint George, and Shanghai Ed.
25. The Mulberry Tree Drought.
26. Running on Fumes.
PART 4 The Dance of Divesture.
27. The Plain Truth About Overfed Cowboy.
28. The Pantyhose King and Wall Street Con Man.
29. Gray Flannel Godzilla.
30. Wheeler-Dealer, Big Hitter, and the Beady-Eyed M.B.A..
31. Marathon Poker.
32. Fight to the Finish.
33. Yawning on Park Avenue.
34. The Chinese Limo.
PART 5 Epilogue.
35. The Darkest Two Years.
36. Transitions.
37. Offshore.
Acknowledgments.
Index.
Pick up this book and strap yourself in for a wild ride! Frank Farwell lets you peer into the heart and soul of an entrepreneur as he tells of building WinterSilks from the ground up. From staring into the abyss of failure to seeing a glimmer of light on the path to success, this story has it all—sheer guts, dogged persistence, personal sacrifice, naive stumbling, learning and adaptation, plain old luck, high anxiety, sleepless nights, and more. Farwell tells his tale with keen observation and great wit. If you want to be an entrepreneur, this book tells you what it's all about.
Alan R. Meyer
Co-founder and CEO, Ocularis Pharma
Former EVP & CFO, PathoGenesis
Brutally honest and funny, this entrepreneur's journey from start-up to sale has a Hollywood ending. The book is hard to put down and, equally important, the never-say-die story is a wonderful lesson for anyone in the world who wants to start and run their own business.
Dan Schwartz
Former Chairman and CEO, Asian Venture Capital Journal
Founder, President and CEO, Qiosk.com
Anyone wanting to become a successful entrepreneur should read Frank Farwell' book. His amazing journey from an under-capitalized start-up to owner of a multimillion dollar company is told with warmth and humor. His disasters and successes and the astonishing characters he meets along the way will be recognized by entrepreneurs around the world. Who says that you can' have fun while making money?!
Bill Heinecke
Founder, Minor Group
Author of The Entrepreneur
Frank Farwell provides us with a rare glimpse into the mind of an entrepreneur. From humble beginnings, Farwell ultimately built the highly successful WinterSilks catalog. Part of what makes reading this book more fun and memorable than the typical business book is that it is peopled with characters the reader can learn from, understand and enjoy, such as "Old Pro" and "Gray Flannel Godzilla." This engaging and easy-to-read book is full of practical advice for would-be entrepreneurs, and reinforces critical business principles. It also encourages focusing on the human side—motivating employees, suppliers... and even bankers like "Chicken Lips."
Michal Clements
Senior Principal, The Cambridge Group

The most honest, insightful entrepreneur's memoir I've ever read. Today, it seems that everyone who undertakes a business venture is deemed an entrepreneur. Frank Farwell is one of the few who deserved and earned the title. Chicken Lips strips away the prevailing romantic illusions about entrepreneurship and provides an honest in-depth account of the WinterSilks story. Every businessperson or prospective entrepreneur can benefit from the lessons Farwell learned on the new Silk Road.
Bill Pinkovitz
Professor, University of Wisconsin-Extension
Former Director, Wisconsin Small Business Development Center

The reader sees here the link of the retail supply chain to China in a far more revealing story of complexity and personal risk than any Harvard Business School case. Farwell tells the gripping story of a commercial chess game in which the opposing pieces are unknown in number and in strength. He adds the story of bankers willing to buy rotten mortgages but reluctant to lend to the entrepreneur with emerging but delicate value.
John Balkcom
President Emeritus, St. John's College, Santa Fe
Former Partner, Booz Allen & Hamilton
I wish I had this book when I was teaching management and marketing and counseling small business owners. Farwell's story is based on first-hand experience and reads like a suspense novel. It covers target market, product mix, pricing, promotion, and distribution; planning, organization, and leadership; perseverance, adaptability to change, crisis management, watching the numbers, developing mentor relationships. . . . Name the issue and it is here, in a fast-paced, humorous style.
Allen Raymond
MPA, Princeton University, Politics and Economics
Former Instructor, U.S. Military Academy
As a business school professor, I can testify that we are now far better prepared to help budding entrepreneurs than when Frank started his business 30 years ago. But as a former entrepreneur, I can testify that nothing has changed. It's all there—the euphoric highs, the despairing lows, the pressures on the entrepreneur's family, and the sense of personal loss when the company is fi nally not yours any more. Entrepreneurs past and present everywhere will recognize themselves in Frank's story.
Patrick Turner
Affiliate Professor of Entrepreneurship
INSEAD Asia Campus
If you are considering a jump from the uncertain world of corporate employee to starting a business of your own, this book will encourage you while also serving as a cautionary tale. Farwell tells his story in a compelling and humorous fashion, taking you through the sometimes-harsh reality of entrepreneurship: people issues, personal sacrifices, international disasters, cash flow crises, evolving business processes, leadership challenges and financial intricacies. In the end, his passion for having his own business—and the desire to avoid being an employee—is the force that allows him to emerge victorious.
Dr. Deborah Streeter
Bruce F. Failing Sr. Professor of Personal Enterprise and Small Business Management
The Dyson School of Applied Economics and Management,
Cornell University
This book is required bedtime reading for every budding entrepreneur. At the end of a long hard day of having many things go wrong and a few things go right, it's reassuring to know that success is possible and that you are not the first to follow the often zigzagging trail a growing business follows.
David Ketchum
President, Asia Pacific, Bite Communications