Child Care Today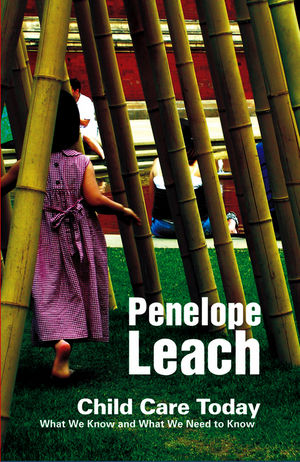 Child Care Today
ISBN: 978-0-745-64700-5
Mar 2009, Polity
352 pages
Product not available for purchase
Description
Child care is the 21st century's biggest unsolved conundrum: children's needs have not changed, but in a world that puts a premium on paid employment and personal fulfilment, who should, who can, and who wants to meet them?





Children's wellbeing - even survival - depends as it always has on somebody taking care of them every minute of every day and night. When most mothers and fathers are in paid employment, much of the day-to-day hands-on care of children has to be done by someone else. But who is to do that caring, and who should bear the costs?





In this book Penelope Leach, a world renowned expert on child development and parenting issues and co-director of the UK's largest child care study, offers an honest evaluation of these complex issues. She considers the view points of politicians, parents, and children themselves, and summarises what international research can tell us about the effects of different kinds of care on families and children.





Economic recession lends the book additional urgency. Must employed parents work even longer hours to protect their jobs and incomes? Will governments retreat from family friendly policies such as paid parental leave and flexible working to protect small businesses? For Leach, what matters most is recognising that children's care is not just the responsibility of parents, often struggling to be in two places at once, but is intrinsic to the well-being of the whole of society. Child care is a problem not just for families, but for nations.
Introduction Part One: Child Care Today 1. The Context of Child Care 2. The Issues 3. How Much Child Care? What Kinds and Where? 4. Parents and Child Care Part Two: Types of Child Care Introduction: Family Care, the Baseline 5. Shared Care by Mothers and Fathers 6. Care by Full-Time Mothers 7. Fathers as Principal Care Providers 8. Grandparent Care 9. Care by Nannies, Au Pairs, and Other In-Home Child Care Providers Introduction: ?Formal Care? 10. Family Day care 11. Child Care Centers or Nurseries 12. Integrated Care and Education: Children?s Centers and Extended Schools Part Three: Quality of Care Introduction: Quality of Care from Various Viewpoints 13. Quality of Care from Research Viewpoints 14. Quality of Care from Parents? Viewpoints 15. Quality of Care from Children?s Viewpoints 16. Choosing Child Care Part Four: Moving On Introduction: Is Better Child Care a Priority? 17. Politics and Policies, Models and Money 18. Families and Child Care 19. Some Signposts to the Way Forward for Politicians, Policy Makers, and Professionals 20. Some Signposts to the Way Forward for Parents and Children Acknowledgments Notes Index
"The renowned psychologist and child specialist Dr Penelope Leach has, after seven years of painstaking research, published a new work,
Childcare Today: What We Know and What we Need to Know
. Its conclusions that good child-care won't damage children could mean a guilt-free return to work for many ex-yummy-mummies, and will come as a blessing to mothers already working."
The Times
"Leach, author of the wildly popular Your Baby and Child, delivers another parenting tome that will likely become the standard by which all other child-care books are measured. Her plea for looking at child care as an investment rather than an expense (well-raised children make well-adjusted adults, after all) comes through loud and clear and makes perfect sense no matter your political persuasion. There's no doubt Child Care Today will become the bible on the subject."
Book of the Day on Booklist Online
"After reading just the introduction I was intrigued, as a woman, a working mother and as a care-giver. I was refreshed to read a forward looking book that acknowledges, but does not mourn society's history, and one that recognises how lives have evolved so that women are from now part of the economic make-up of the world."
Sasha Edmunds, National Childminding Association
"Comprehensively covers the state of childcare in the world today, asking and answering many questions [and] offers an honest evaluation of these complex issues."
Child Care
"Should be recommended reading for early years professionals, childcare providers and managers as well as parents who are interested in exploring 'the child-care question' at this level of policy and outcome research."
Under 5
"A new study on the best way to take care of kids and how parents in Western nations are currently doing it [from] Penelope Leach, the British psychologist and author of Your Baby and Child, the one book that's always on my bedside table ... Leach offers counsel for all of us ... She gives us a better way to think about the [child care] decision ... Above all, we do best by our children when we think deeply about our choices from their point of view ... I've stuck with Leach's earlier book through my first 3-1/2 years as a mother because it's both child-centric and sensible. Child Care Today [has] the same combination of kindness and rigor."
Sara Sklaroff, The Washington Post
"Leach argues that asking whether child care is bad for children is asking the wrong question altogether and that we are guilty of assuming that the answer to bad child care is no child care ... Unparalleled in its comprehensiveness, this is highly recommended for academic libraries and should be required reading for those involved in policymaking regarding children and families."
Library Journal
"A masterful work by a luminary in the world of child development. If implemented, Leach's findings would revolutionize the way America cares for its young children and bring about a radical improvement in the lives of children and their parents - and in the economic, social, and intellectual well-being of our country."
Virginia A. Smith, Boston Globe
"This book is both important and timely. Penelope Leach is renowned for addressing the thorny questions about childcare without coming from one particular 'side'."
Nursery World
"Child Care Today is an update on the state of child care in the 21st century. In addressing 'the real issues in combining the human essentials of earning and caregiving,' Leach looks at the things that matter. For any mother or father interested in examining their own choices in a global context, this book looks like a must-read."
Pittsburgh Post-Gazette
"Venerable British child psychologist Leach, author of the classic Your Baby and Child, addresses the overarching question of who is caring for today's children. Until we embrace children as everyone's responsibility, Leach insists, the 'working/caring conundrum' will continue to plague parents, and society will forgo the high dividends that result when an investment is made in quality child care."
Starred review in Publishers Weekly